2010-2015 Camaro Air Intake Systems
---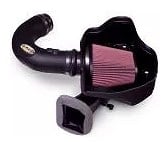 2010-2015 5th Generation Camaro Cold Air Inductions
Cold Air Inductions from K&N, aFe Power and Airaid for the 2010-2015 Camaro
One of the easiest ways to squeeze more horsepower out of your 5th Gen Camaro is by adding a cold air intake. A cold air induction package for your 2010-2015 Camaro is typically good for 15-25hp+ by simply bolting on the unit. Southern Car Parts has some of the biggest name brands in the market at the best prices in the country.
Our lineup of Cold Air Intakes for the 2010-2015 Camaro include the best in the business from Airaid Intakes, SLP Blackwing cold air intakes, K&N filter and chargers, aFe Power Momentum intakes, Roto-Fab, Vararam and Halltech. We pride ourselves on offering the largest selection of 5th Gen Camaro intakes and we have the most knowledge and personal touch in the business.
We often will suggest a handful of intakes if a customer asks us before placing the order. We are fans of Cold Air Inductions, Airaid and also aFe Power. These these companies make their Camaro cold air intakes in the United States and take great pride in producing the very best cold air inductions on the market. Any of these big three companies will surely please when you smash down the pedal on your Camaro.