2015-2017 Ford Mustang Emblems, Decal
---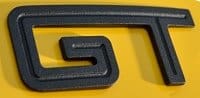 2015-2017 Ford Mustang Emblems, Lettering, Stripes and Decals
Your 2015-2017 Ford Mustang is a beautiful car, but here at Southern Car Parts we often feel excited to have the opportunity to dress up our car with a few extra additions that really make it stand out from the crowd. If you are looking to change out your emblems or perhaps add some new emblems, decals or lettering on your 2015-2017 6th Generation Ford Mustang, then you have come to the right place.
We have a large selection of different emblems and lettering to put on your new S550 Mustang. We've recently added a line of body and hood stripes to our lineup. Also, check out our visor label decals if you want to hide the unsightly visor warning labels. Most of these items utilize a simple "peel-and-stick" installation method, using super-strong 3M automotive adhesive that is reliably able to last a long time.
Lastly, we have a wide range of custom body-matching painted items available for your 6th Gen Mustang. Since all our paint work is done right here in the USA, the attention to detail and overall quality will surely blow you away!