2016-2017 Camaro Exhaust Systems
---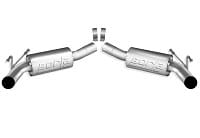 2016-2017 6th Generation Camaro Exhaust Systems
Leading manufacturers like Borla, Corsa, Billy Boat, Magnaflow, Stainless Works and more
The Chevrolet Camaro is undoubtedly one of Chevrolet's best selling cars from decades gone by. Recently, it is not just Chevrolet's but the motor world's most celebrated muscle car. Once you buy a 6th Generation Camaro, it is obvious that there is that constant urge to keep the car's performance up in top gear at all times. After all, it's an amazing car to drive, one that gives immeasurable pleasure and satisfaction.
There is no easier way to boost the performance of your 2016-2017 Camaro than with a custom exhaust system from Southern Car Parts. Exceptionally designed to boost horsepower by as much as 15%, a 6th Gen Camaro exhaust system is all that you need to sustain power and torque at the drag strip, racetrack and street. So, if you've just picked a brand new Camaro and want to add to its already incredible horsepower, you're at the right place.
We carry exhaust systems for Camaro that are going to take the sound and power within your ride to the next level. With excellent prices and a huge selection at Southern Car Parts, you are sure to find a Camaro Exhaust System that meets your requirements. For the highest boosts in power and torque, pick the 2016-2017 Camaro exhaust kit. Catback and Axleback exhaust systems for Camaro also give desirable results.
Why Choose Exhaust System For Your 2016-2017 Camaro
A lot of the Camaro custom exhaust systems available at Southern Car Parts come with many other fully customizable applications. For example, the Borla exhaust system allows you to control the volume of exhaust flow at any given time, such that you can add exhaust flow whenever you want more power and keep it low when driving at low RPM. Another important advantage of installing a custom Camaro exhaust is fuel efficiency. By managing the efficient burning of fuel, a custom exhaust keeps your fuel reserve high for longer. If you drive every day, you will appreciate the extra 2mpg or more that you're able to record on your current mpg reading. Last and quite notable feature is the irresistible sound of a custom exhaust. Better yet, most of our 6th Gen Camaro exhausts, allow you to adjust the sound of your engine tone for a personalized exhaust note.
Add more horsepower and a dragon-breath sound to your 6th Generation Camaro with a Southern Car Parts exhaust system.