Any blue-blood Ford Mustang fanatic will tell you: sure, a stock Mustang is fine. It's definitely better than all other cars on the road – or in the showroom, for that matter. But to truly make your mark with your Mustang, you have to somehow take your car from plain old regular to race-read & road-ruling.
One option is to have a professional mechanic do all the work for you – but get ready to grab your wallet. Labor costs can quickly sink your budget, and here's another thing to consider: are the parts good enough to warrant an expensive price tag? In other words, are you getting Ford Racing Performance parts for your Mustang?
Today's do-it-yourself self-tuning craze is made possible by parts outlets like Southern Car Parts. We empower DIY mechanics just like you to take control of their Mustang…and turn it into a machine that's virtually untouchable on the road. You'll not only save labor expenses, but you'll also know that the work was done right – as long as you use Ford Racing Performance components and accessories.
Just one Ford Racing Performance Mustang part – take the 670 HP Supercharger Kit, for example – can supply tons of extra power and noticeable performance gains. But the total Ford Racing Performance Mustang parts universe includes accessories for in and outside the engine.
To better mimic the total racing experience, Ford Racing Performance parts include components for handling, appearance, interior comfort, braking, suspension and more. Individually, each part can upgrade specific aspects of your Mustang toward better performance. Collectively, the entire range of Ford Racing Performance Mustang parts can remake your factory Mustang into a racing legend. And best of all, you can find many of these accessories right here at Southern Car Parts! 
Why Ford Racing Performance Parts?
Not just any aftermarket accessory qualifies as a genuine Ford Performance Racing part. A thorough quality inspection is just the start. Ford Performance Racing parts must undergo the most stringent performance specs in the industry.
These rigorous tests and checks aren't just for identification purposes – although that's an important reason. If an aftermarket Ford Mustang accessory is labeled with "Ford Performance Racing," you can be sure it is made to specifications that go above and beyond "normal" aftermarket parts. And that label also identifies one other critical aspect of all Ford Racing Performance Mustang parts: the part is good enough for licensed Ford dealerships.
If they're good enough for Ford-trained service technicians and mechanics, they're good enough for you. To ensure to best possible quality and superior, lasting performance, go with the Ford Mustang parts that are given the "official" stamp of approval – go with genuine Ford Racing Performance parts.
Ford's track testing methods are among the most rigorous and demanding in the performance parts industry. From initial design to manufacturing all the way to final testing, no other Ford Mustang parts can match Ford Racing Performance parts.
Ford Racing Performance Parts from SCP: A Few Favorites
Check out these Ford Racing Mustang parts – each one has earned the legendary Ford Racing performance distinction.
670 HP Supercharger Kit
We mentioned it once already, but greatness deserves a second look. This supercharger kit includes all required installation hardware, 93 octane fuel optimization and calibration to ensure it's legal in all 50 states! After all, what's the point of Mustang performance if it can't perform in certain areas? This is one of our most popular Ford Racing Performance products, and it's the perfect way to put your Mustang on the racing map.
6-Piston Front Brake Kit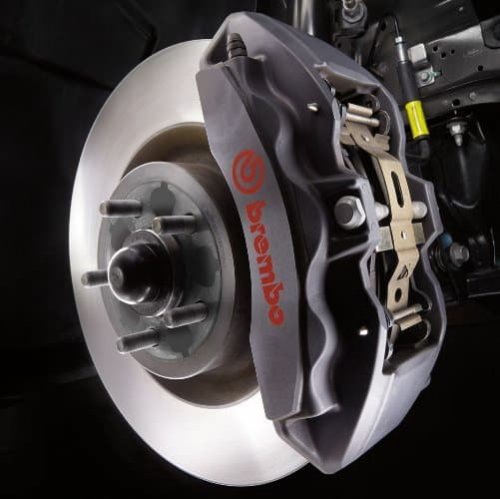 With pads, rotors, dust shields and installation hardware, this high-performance brake kit is a necessity for any Mustang making the regular-to-racing transformation. This brake kit is one of the cornerstones of the 2015 – 2017 Mustang Performance Package, and it's recommended for your Mustang too!
Short Throw Shifter
Performance is all about control – and what better way to harness your Mustang's racing power than with this specialized short throw shifter? The comprehensive kit allows a near 20% reduction in throw, resulting in a more responsive driving experience. Plus, you can use the stock thread to install the shifter, resulting in a fast, professional installation.
Performance Track Handling Kit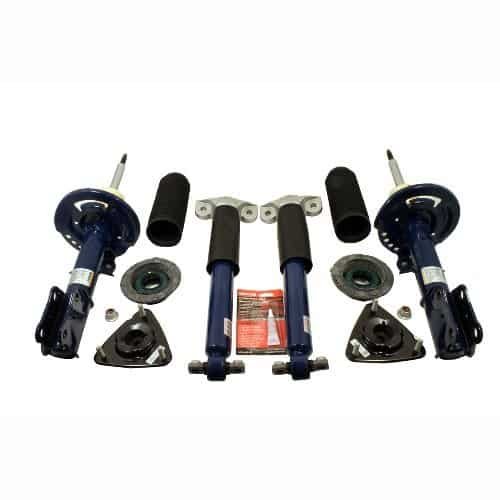 If you want the very best from your racing Mustang, you'll want this handling accessory package. You'll get shocks & struts, a lowering kit, bumper kit, sway bar and much more. What's more, this kit also creates a super-aggressive stance for your Mustang. Performance, appearance, and driving excellence – this kit has it all!
Rev Up Your Mustang Today with Southern Car Parts!
A factory Ford Mustang already has high octane performance. For higher octane performance, Southern Car Parts has all the best Ford Racing Mustang parts and accessories – at great prices, too! Our Ford Racing Performance Parts selection includes many favorite parts for your Ford Mustang, all carefully selected by our parts consultants for quality, value and performance.
Get your Mustang race-ready today! With our ever-expanding inventory of top-quality Ford racing parts, your car will enjoy superior horsepower, great handling, sleek style and true racing pedigree. And best of all, with ultra-fast shipping, your SCP order is on the way to your door as soon as you order it. From the popular 5th generation Mustang to the current model, SCP the parts you need – and want – ready to ship today! Fill up your cart with our Ford racing components and Mustang accessories now!
If you have any questions about our Ford Racing Performance Parts or would like to speak with our Mustang component consultants, please call SCP at 888-631-1433. We've helped transform regular Mustangs into racing Mustangs – and yours is next! Call SCP today!