Corvette C7 Apparel
---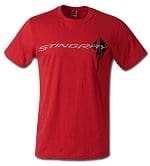 2014-2017 C7 Corvette Apparel, Shirts, Jackets, Hats
Southern Car Parts is a one-stop destination for Corvette fans who have a love for the best sports car ever built. We have a large range of aftermarket products including all types of mods, replacements, and accessories for the C7 Corvette. We've kept all the car owners covered with our infinite yet exclusive range of products. Our variety is so extensive that if you don't find something on our website, it is probably not available in the entire market. Our prices, just like our quality, are unbeatable. We love to beat the competition and rise above it. Our dedicated team of engineers is always creating new technology products to serve you with the most advanced technology.
Inspired by our team of engineers, our designers strive for excellence too. They believe that your style should be as outstanding as your car. To match the level of your Corvette's style, our fashion designers have come up with an exclusive range of Corvette Apparels. These include shirts, jackets, hats and much more. Southern Car Parts takes immense pride in being a leader in 2014-2017 C7 Corvette Stingray apparel.
We currently have many different styles of hats, t-shirts, sweatshirts, hooded sweatshirts, polo shirts and more. Our collection includes both men's and women's wear. All of our C7 Corvette apparel items are approved by General Motors and feature some sort of the Stingray or C7 logo to ensure branding. Mostly, Corvette owners will tell you many great things about owning a Corvette. They take immense pride in driving the world's greatest American-made sports car and they never miss a chance to show that off. A great way to show your C7 pride is by wearing custom made apparels with a C7 logo on it like the shirts, caps, jackets or hoodies.