Corvette Car Covers Custom Fit Corvette Car Covers for Indoor and Outdoor Use
If you are like most folks, your Corvette is driven primarily for fun. When you are not driving it, you want it protected. A Corvette Car Cover from Covercraft is you best choice when it comes to protecting your Corvette. At Southern Car Parts our focus is to carry only the best products and Covercraft is our primary car cover manufacturer. Covercraft car covers are 100% made in the USA and the fabric is direct from Kimberly Clark (also USA based). Covercraft car covers have a 4 year warranty and are considered to be the best car covers on the market. Do not take chances with your Corvette, if it is sitting outdoors, get the very best car cover you possibly can, something like the famous and time tested Covercraft NOAH Car Cover. If indoors, the Form Fit Corvette Car cover is sexy on your Corvette and protects it from the hazards in a garage. The underside of the Form Fit Corvette Car cover babies your Corvette's paint. Do not skimp on your car cover choice, get the best, get a Covercraft Car Cover.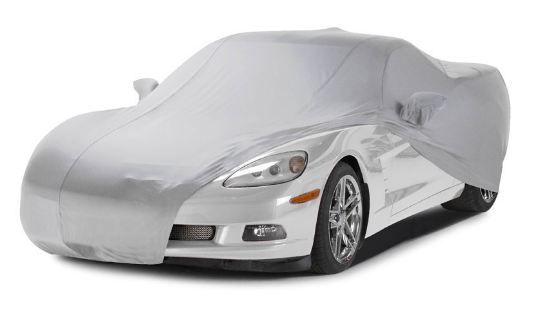 Why a custom fit car cover? Universal and semi-custom covers had been around quite a while before Covercraft identified the market potential, and began catering to enthusiasts who wanted a more "perfect fit" for the cover being used to protect their pride and joy. Back in the 60's (in the last millennium), the most popular covers we made were for British and European sports cars and they were called "mittens". Today, custom covers are made for everything from kit cars to motorhomes, and we process orders for custom, made-to-dimension patterns every day.