C7 Corvette Letter Sets & Emblem
---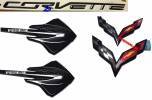 2014-2017 C7 Corvette Lettering Sets and Emblems
Southern Car Parts, the most trusted name in aftermarket products for Corvettes, Mustangs, Camaros and many more cars has a stockpile of emblems, decals, letter sets and dozens of other hot accessories to decorate your ride a little. Our online store boasts of a vast collection of replacements and modifiers for your Chevrolet C7 Corvette. The market of aftermarket goods is like a web and it is easy to get trapped. You might get fooled by many suppliers that sell low-quality goods which fail to meet your expectations in the long run. Be smart and buy from us as we assure that you get the best in quality items at affordable prices, the ones which are successful in the long run to keep you fully covered.
Don't leave your 2014-2017 C7 Corvette without a fantastic emblem and give it some extra bit of edge and style. Also don't forget about all the C7 Corvette accents and lettering that you will need to fully customize your ride into an eye-catching one. We have a huge collection of bumper insert letter, stripes kits, decal packages, overlay sets and many more items to add more glam to the exteriors of your Corvette. Southern Car Parts also has a large pile of flag emblems, graphic side stripes, emblem badges and custom-made metallic packages for your car.
We absolutely love the exteriors of C7 Corvette, that's why we worked really hard to enhance them further and came up with a range of add-ons to add more pop to the exteriors of this beast. We know exactly what you need when it comes to exteriors - Corvette emblems, decals, and letter sets! And, we have got them all sorted for you under one roof. Buy some for yourself to add more style to your car. You can contact us in case of queries. Our team will be happy to serve you. Shop for the best as you browse through our category of lettering sets and emblems below.