Corvette C5 Parts
---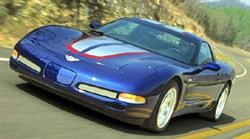 -
1997-2004 C5 Corvette Parts
Aftermarket Performance and Style Parts and Accessories for the C5 Corvette
The Corvette C5 debuted in 1997 and had a production run that lasted all the way until 2004. The C5 enjoyed a huge loyal fan base that purchased over 240,000 C5 Corvettes. The C5 Corvette was offered in a huge variety of special editions and body styles. The Z06 Corvette had 405hp and could hit zero to sixty in close to 4 seconds flat. The C5 Convertible was also a huge hit that is the perfect automobile for cruising on nice days with the top down.
Most of all the C5 Corvette is one of, if not the most modified car in American history. Corvette C5 owners love to personalize and add power to their Corvette. Some of the most common first purchases include a new Corvette intake (Halltech Venom II is a common choice) or Corvette C5 exhaust system (Borla Exhausts and Billy Boat exhausts are the most popular) which both will add additional horsepower and an awesome sound. From an exterior modification perspective, C5 Body Kits such as the Tigershark body kit and Corvette Wheels are very popular. Corvette C5 Parts that are also huge sellers are things such as the Corvette Window Valet, a cool little device that allows you to roll up and down your windows from the Key Fob.
No matter what you a loooking for to personalize your Corvette, Southern Car Parts has what you are looking for (if you cannot find what you need, send us an email , sales@southerncarparts.com and let us locate it for you). We have all the Horsepower boosters, ranging from a cold air intake to the forced induction supercharger. Need to protect your Corvette during the winter months? Whe have a complete line of custom Corvette Car Covers from Coverkinn and Covercraft, both made to fit your Corvette C5 perfectly without any sags (we do not sell universal fit car covers, only custom exact fitting covers).