Billy Boat Performance Exhaust | Corvette Billy Boat
Corvette B&B Exhaust systems are some of the greatest quality made in the country
All Billy Boat exhaust systems are made right here in the USA, all made of stainless steel. When you purchase a B&B exhaust system you can know that you have a hand built system that is made by one of the greats of Indy Car Racing - Billy Boat. The B&B Corvette line of products that Southern Car Parts carries is unmatched. While most vendors "drop ship" your order. Most of the popular B&B Corvette systems are kept in stock at our warehouse for immediate shipment. This means a few things for you..First, you know that your order is shipping out now. Meaning no delay, many vendors are weeks before they ship. Second, you know we are in control of the order from start to finish and this means you get the best price possible.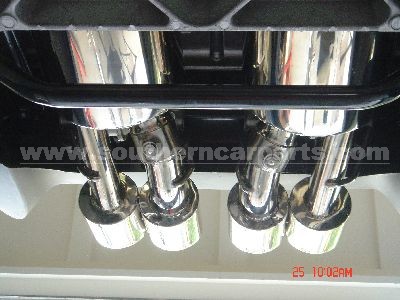 Billy Boat has three basic muffler systems available:
1. Bullet system - This is the meanest, loudest, most aggressive system you can buy for your Corvette. If you really want to be heard and love the sound of American V8 engines at their finest, then this is the system for you. The Billy Boat Bullet exhaust system is aggressive and most free flowing of all systems available. Some of the popular versions are:
- C5 Corvette Bullet, single tips, or FCOR-0105
- C5 Corvette Bullet, dual tips, or FCOR-0100
- C6 Corvette Bullet, dual tips, or FCOR-0510
- C7 Corvette Bullet, Speedway tips, or FCOR-0617
2. The PRT system - This is a unique design to Billy Boat. The PRT Corvette exhaust systems features a special device, instead of a muffler that does not allow drown. The PRT is a very popular design that many C5 Corvette, C6 Corvette and C7 Corvette owners will instead on. Some popular PRT Corvette B&B systems include:
-C5 Corvette PRT FCOR-0205
-C6 Corvette PRT FCOR-0525
-C7 Corvette PRT w/Round Tips FCOR-0625 and also the PRT w/Speedway Tips FCOR-0627
3. The Fusion Billy Boat System - This system is the top of the line B&B Corvette system. The Fusion system employs the Bullet side of the loud mufflers and the normal driving side of the PRT "mufflers". With a Corvette Fusion exhaust system you really get the best of both worlds. Some of the more popular Corvette Fusion exhaust systems will include:
-C5 Corvette B&B Fusion, FCOR-0150
-C6 Corvette B&B Fusion, FCOR-0566 and FCOR-0564
-C7 Corvette B&B Fusion, FCOR-0667FCOR-0667 and C7 Z06 FCOR-0677
One thing you can be sure, no matter the Corvette Billy Boat exhaust system you chose, you can know you get the best quality in the world. If you are unsure which B&B performance exhaust system is right for you, please do not hesitate to pick up the phone and give us a call. We know the Billy Boat line of Corvette exhaust systems better than anyone else and we can help you chose the right system for your desires and needs.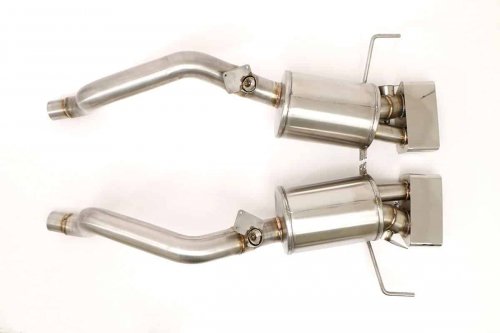 B&B Exhaust
---