2010-2015 Camaro Exhaust
---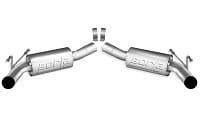 2010-2015 5th Generation Chevrolet Camaro Exhaust
Performance

Aftermarket Exhaust Systems for the Chevrolet Camaro

Did you just pick up a 2010-2015 Camaro? Are you already getting the bug to add to the cars already high horsepower engine? The two easiest ways to add Horsepower to your new Camaro is to add a new 2010 Camaro Exhaust system or Camaro Intake System. We carry the Carmaro exhaust that is going to really unleash the sound and power within your Camaro. Excellent prices and selection, at Southern Car Parts you are sure to find a Camaro Exhaust System that meets your needs.
The 2010-2015 Chevrolet Camaro marks the return of this General Motors division's iconic "pony car." It bows as a 2-door coupe. A 2-door convertible version is due in early calendar 2011. The 2010 Camaro shares some of its basic underskin design with the Pontiac G8 large sedan and wears body styling inspired by the 1969 Camaro. LS, 1LT, 2LT, 1SS, and 2SS trim levels are offered. Two engines are available--a V6 and a V8. The V6 is a 3.6-liter unit that produces 304 hp. It's available on LS and LT. SS versions with a manual transmission get a 426-hp 6.2-liter V8. Automatic-equipped SS models also get a 6.2-liter V8, but it makes 400 hp and features GM's Active Fuel Management cylinder deactivation. V6 versions also offer a manual or automatic transmission. An RS Package for LT and SS models includes bi-xenon headlights, specific trim, and on LT versions, 20-inch wheels. All Camaros are available with 21-inch wheels. Other available features include a wireless cell-phone link, USB port, satellite radio, remote engine start, and later in the model year, rear-obstacle detection.
Modifying and upgrading your Camaro for better performance and drivability will almost always begin with your Corvette exhaust system. The Camaro's small-block V8 engine has such a distinctive note and such incredible power capability that the stock Camaro exhaust just can't fully realize. With Corvette exhaust systems available from such incredible manufacturers as Borla Performance Exhaust, Magnaflow, Corsa, and others the range of possibility in upgrading your Camaro's exhaust system, and subsequently performance numbers and Camaro exhaust sound, tone, and volume, there's an entire world of untapped potential available for your Camaro.