2015-2017 Ford Mustang Cold Air Intakes
---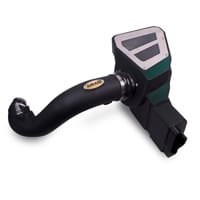 2015-2017 Ford Mustang Cold Air Intakes
Top cold air inductions from Airaid, Blackwing, aFe Momentum, K&N Filters and Roush
When it comes to horsepower adders, the air intake is your best bang for the buck. Replacing your stock air filter with one of our cold air intakes will increase HP and gain fuel mileage. While there are many options when it comes to choosing the best cold air intake for your new Mustang, we ask customers to keep in mind, the brand they are looking to purchase. There are so lesser known manufacturers on the market, but Southern Car Parts has only the top manufacuturers that are tried and true.
Mustang cold air intakes from Airaid are a sure way to know you are getting a made in the USA cold air induction and one that will product huge horsepower numbers. Another great company is aFe Power, while maybe not quite as well known as K&N, aFe is a leading manufacturer of peformance products and specifically cold air units for many GM cars and trucks. aFe is becoming better known by Mustang owners due to the fact that their cold air intakes make power...and a lot of power!
If you are unsure which cold air induction unit is right for your and your new Ford Mustang, just give us a call, let us know what you want to achieve and we'll help make your dreams a reality.