Akrapovic Motorcycle Exhaust
---

Akrapovic Motorcycle Exhaust Systems
World Class Performance Exhaust Systems for Race Inspired Motorcycles by Akrapovic Performance Exhausts
Are you looking for the ultimate in quality, performance, and sound with your next exhaust upgrade? If you want an exhaust made with the finest materials, most professional engineering, and the ideal combination of that perfect audible nirvana exhaust tone and track ready performance improvements, look no further than Akrapovic Exhausts. Made in Slovenia and sold via Southern Car Parts, Akrapovic exhaust systems set the highest standards with quality and design. Akrapovic systems are offered in very light weight aircraft grade Titanium or Stainless Steel. Each and every Akrapovic Exhaust system is truly a work of art and can only truly be appreciated up close for both the workmanship that goes in to each one and the increase in tone and performance. Akrapovic only makes exhaust systems for the motorcycles that true enthusiasts drive. If your motorcycle is not listed here check back in the future, maybe there is an Akrapovic Exhaust being designed for your bike today!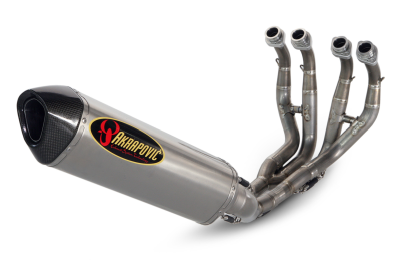 Akrapovic has placed design at the focal center of the exhaust business today. With world leaders in industrial design on staff, Akrapovic understands that a great exhaust system is not only well-performing and audibly pleasing, but also provides an incredible visual touch to the vehicle upon which it is installed. It's this attention to visual detail that has helped to make Akrapovic the world's leader in exhaust systems, and their patented conical design is instantly recognizable to any true enthusiast.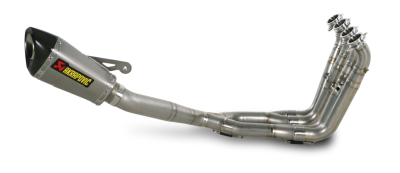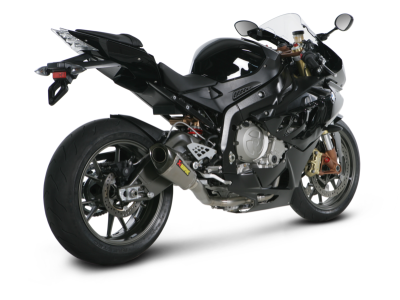 Of course, focusing on visual aesthetics alone would be incredibly shortsighted, and that's where the rest of the Akrapovic process comes in to play. Each and every Akrapovic exhaust system is specially designed from the ground up to match up to and maximize the potential of its respective vehicle. The high quality and light weight exhaust components mean that your motorcycle will find itself the recipient of incredible boosts in HP and Torque numbers as well as weight savings to make it even more of a mean machine. Coupling the performance and aesthetic gains together isn't enough for Akrapovic either, and each system is built, tested, and retouched and retuned multiple times until each one provides the perfect exhaust note.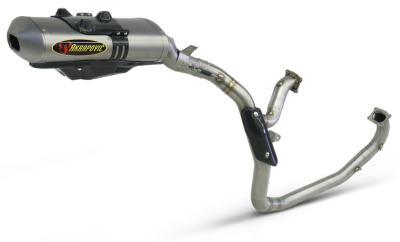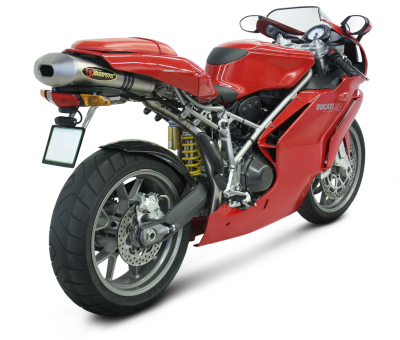 It's that Akrapovic exhaust note that makes every Akrapovic motorcycle exhaust complete, too. An Akrapovic exhaust provides the sound of pure power that every motorcycle owner wants to hear: a deep, powerful, resonant tone that crescendoes from thunder to a barbaric yaup at the perfect moment. A bike outfitted with an Akrapovic system sounds like no other on the road, and will truly set you apart as you approach and then pass right by the competition.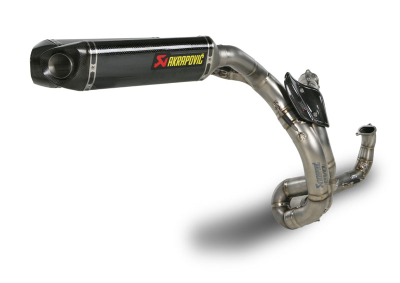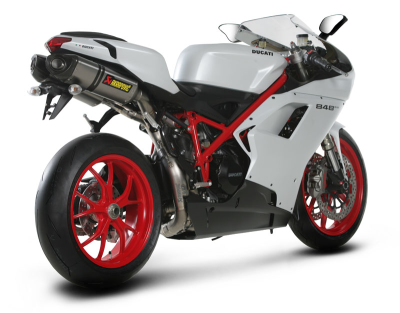 Of course, you don't have to take our word for it on the quality of Akrapovic exhaust systems. Akrapovic is one of the world's most race proven companies, and they have been the exhaust of choice for multiple MotoGP, World Superbike and Supersport, Motocross, Supercross, Enduro, and FIM Superstock teams--just to name a few of the circuits where they've made their presence undeniable. In 2011 alone, five different Akrapovic outfitted teams won world championships in major circuits, and 2012 and going forward look to harbor even more success. Each and every Akrapovic outfitted victory is another feather in the hat of every Akrapovic owner as it further proves the unparalleled performance of their exhaust system of choice.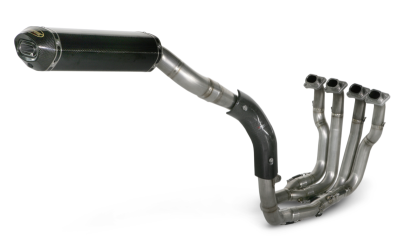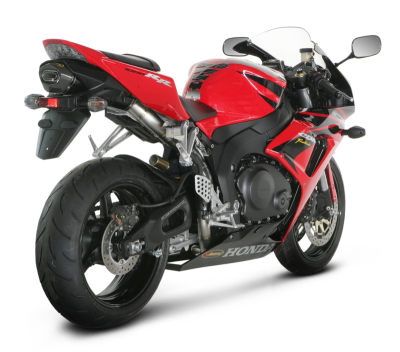 All of Akrapovic's award winning systems are brought together in a state of the art factory in Slovenia. Every single one is designed, tested, and manufactured in house as the Akrapovic laboratory and factory, and each one utilizes a combination of the following materials: heat-resistant aircraft grade titanium alloys, machine quality austenitic stainless steels, and dry impregnated space grade carbon fibers. These materials, this state of the art factory, and Akrapovic's incredible dedication come together to craft the perfect exhaust system.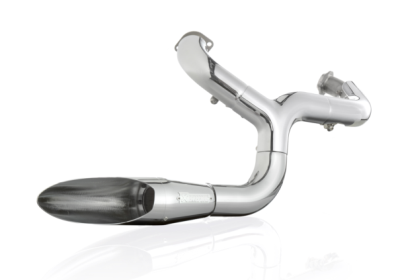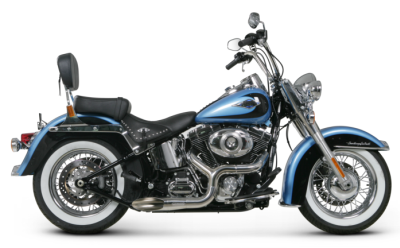 Akrapovic offers a variety of exhaust systems for every application one could need. If you're looking for track racing performance for your motorcycle look at the Akrapovic racing line of motorcycle exhaust systems. If you want the finest in road-ready performance at standard driving RPM ranges, with the most appropriate and impressive road exhaust noise, be sure to look at the full line of Akrapovic Evolution Motorcycle Exhaust Systems. For off-road applications, Akrapovic offers a number of powerful torque providing off-road motorcycle exhaust systems that will provide the perfect bonus to your bike. Lastly, if you just want the full Akrapovic visual and tonal upgrade but place extra performance numbers as secondary, be sure to look at Akrapovic's Slip-On Motorcycle Exhaust systems. Regardless of your need, the chance is great Akrapovic has the system you need, and if they do you can rest assured that because it's Akrapovic, it's the finest available.
There are no products matching the selection.
Akrapovic Motorcycle Exhaust