C7 Corvette Carbon Fiber Engine
---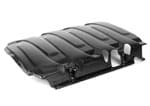 2014-2018 C7 Corvette Carbon Fiber Engine Bay Covers
Dress-up the engine bay of your 2014-2017 Corvette Stingray with carbon fiber. We offer many of our C7 Corvette engine bay carbon fiber products in real carbon fiber and hydrocarbon fiber. What is the difference? Real carbon fiber, is 100% real cloth, the same materials used in racecars all across the world. All of our real carbon fiber engine dress up for the C7 Corvette use a 2x2 twill pattern. This is the most popular pattern available and in our opinion looks the best. We also offer many of our engine bay covers in hydrocarbon fiber. Hydro carbon fiber is a film that looks like real carbon fiber but is not. Hydro carbon fiber is normally a slightly less expensive alternative and available on a larger range of products. Our hydrocarbon fiber products are very nice quality as well.
If you opt for real carbon fiber or hydrocarbon fiber C7 parts from Southern Car Parts, you can be sure of one thing. All of our carbon fiber products get three coats of Dupont clear coat to give your new engine dress up pieces a high gloss, show winning shine. After the clear coat is applied we then sand out any slight imperfections or dust. Finally, we buff the surface to a glass like smooth finish.
Some of our more popular C7 Corvette carbon fiber parts include APR Performance plenum covers and fuel rail covers. Another popular item is the LG Motorsports carbon fiber radiator shroud duct. If you are unsure what is right for you or if you prefer real carbon fiber VS hydro carbon fiber for your C7 Corvette please do not hesitate to contact us, we are here to help.