Corvette C5 Exhaust Plates/Acc.
---

Corvette Exhaust Port Filler Plates
Custom Exhaust Plates and Exhaust Port Filler Panels for the C5 Corvette
The distinctive styling of the Corvette exhaust tips draws the eye almost immediately to that area at the rear of the vehicle. Because of this, aftermarket exhaust tips are incredibly popular. If you want to improve the look of that area even more, however, and set it apart even further from the other Corvettes on the road with aftermarket exhausts, then a custom stainless steel exhaust port filler panel would be perfect for you. These Corvette exhaust plates come in a variety of different styles to fit both aftermarket and stock exhaust configurations, and each dresses up the rear end of your C5 Corvette beautifully. Exhaust panel filler plates are gorgeous yet subtle modification pieces that take the look of the Corvette to the next level without ever drawing too much attention to themselves.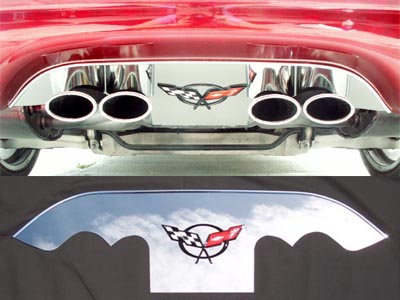 The statement styling of the C5 Corvette exhaust tips grabs the attention almost immediately to that area at the rear of the vehicle. Because of this, aftermarket exhaust tips are incredibly in vogue. If you'd like to improve the look of that and make it fancier, then a custom stainless steel exhaust port filler panel would be a great choice. Get it installed and set your ride apart from the other C5 Corvettes on the road with aftermarket exhausts. These Corvette exhaust plates come in a range of different styles to fit both stock and aftermarket exhaust configurations, and each dresses up the rear of your C5 Corvette beautifully. Exhaust panel filler plates are subtle modification pieces that look gorgeous and take the look of the Corvette to a whole new level without ever drawing too much attention to them