Corvette C5 Intake
---
1997-2004 C5 Corvette Intakes and Cold Air Packages
Cold Air, Ram Air, and Performance Intake Systems for the C5 Corvette
The most popular modification for the Corvette is too replace the factory Air Box with an aftermarket, less restrictive system. Replacing the Corvette intake is usually less than a 1 hour installation, cost less than $500 dollars and reaps big rewards on the dyno. You can expect rear wheel horsepower increases of 10-15 HP (typical) across the board with most replacement intake system we offer. At Southern Car Parts, we only offer systems that have been proven to product real horsepower gains and top notch customer satisfaction. Brand names like Halltech, K&N, Vararam, and Airaid are all quality Corvette intake systems that will give your Corvette that extra bolt on punch you are looking for.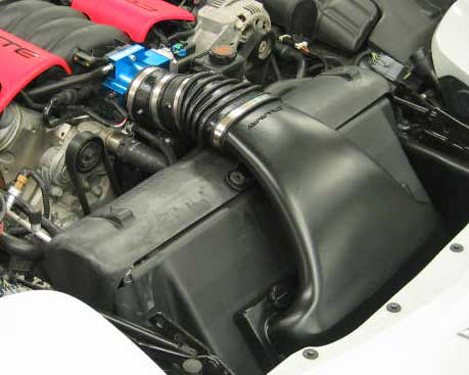 When looking for extra horsepower, air flow is the name of the game. With a Chevrolet Small-Block V8 engine there's a ton of room to grow, also. A new Corvette Intake system will help provide extra air flow for your high performance V8 engine and the subsequent gains to HP and Torque that accompany that. We're also very proud to offer you the largest and most complete Corvette intake line-up to choose from anywhere, with the internet's best prices. Whether you want a powerful Cold Air Intake like the Halltech Corvette Intake, the Callaway Corvette Intake, the Airaid Corvette intake, or one of the many other CAI options available in our catalog, or you're looking for a Ram Air Corvette Intake, or Corvette Replacement Air Filters, we have them all available for you.
Southern Car Parts is committed to provide car owners around the globe with excellent modifiers. Resellers of accessories, modifiers, replacements for muscle and sports cars like C5 Corvette, Mustangs, Camaros, Challengers, Raptors and many more, we take pride in our vast collection. If you're looking for something to add an extra pop of style to your car, search no more. At Southern Car Parts, we provide custom services that cater to unique demands of car owners. We have engine bay dress ups, Air intake systems, Cold air packages, Exhaust plates and panels, and a lot more for various models of all the cars mentioned above.
We swear by quality and durability, that's why we only buy from C5 Corvette Cold Air Intakes and performance accessories brands trusted all over the world for their expert engineering. We keep client satisfaction before profits. In case you have any queries, please feel free to contact the friendly and helpful staff at SCP. They'll be glad to assist you. You can browse through our entire range of C5 Corvette intakes and cold air packages here