Dodge Challenger Exhaust Systems
---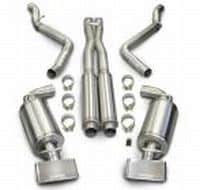 2009-2017 Dodge Challenger Exhaust Systems
Changing out your exhaust system will give your new Dodge Challenger the exhaust note and power you want from a true muscle car. A new free flowing exhaust always is good for anywhere from 5-15 hp (depending on the system) and certainly will give your Challenger a growl that will differentiate it from the pack. Our most popular exhaust systems for the 2008+ Dodge Challenger come from Borla, Corsa and Billy Boat Exhuast. All three companies offer systems that truely bring your Challenger to life and provide and exhaust not that will keep you from ever wanting to listen to your radio again (will always just want to listen to the exhaust). Both systems are made of stainless steel and provide average power gains of 10-12hp. The Billy Boat system gives you the option of using your OEM exhaust tips of using the Billy Boat tips.
Corsa Performance Exhaust offers a great selection of Challenger exhaust systems. The Corsa Xtreme is a very nice, deep tone, throaty, all American V8 sound. Very popular among our customers.
Borla also has a great system out of the Challenger Scat Pack, the Touring model is great for a subtle upgrade over stock and the ATAK is a loud, "you can hear me for miles" upgrade for a 392 Challenger. Of course we'd be letting you down if we didn't mention the Borla ATAK for the Challenger Hellcat. This is the best system, in our opinion, for a Dodge Challenger Hellcat.
No matter your Challenger model, we have the correct exhaust system for your needs. From Corsa to Borla, Magnaflow to Kooks, MBRP to SLP Performance. We've got it. Not sure which Challenger aftermarket exhaust system is right for you and your Dodge? Give us a call and we'll help you and steer you into the right direction.