Home

/

Dodge Challenger Floor Mats
Dodge Challenger Floor Mats
---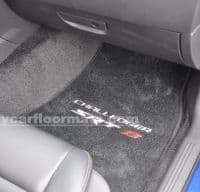 2009-2017 Dodge Challenger Floor Mats and Challenger Hellcat Floor Mats
The Muscle cars of the 60's are back and the 2009 Dodge Challenger is looking hotter than ever!

We offer custom fit Dodge Challenger and Challenger Hellcat floor mats complete with a large variety of Dodge and Dodge Challenger embroidered factory licensed embroidered logos. They come with factory fastening systems and a five year wear warranty. These are the best looking mats you can put in your Challenger and are way more functional than the factory OEM mats. Our selection of front floor mats, rear floor mats and rear cargo mats are nearly endless. Our configurator below will allow you to custom build your Dodge Challenger and Challenger Hellcat floor mats. We offer a wide variety of Challenger logos that can be embroidered on your new floor mats, from the CHALLENGER word, SRT lettering, HEMI Lettering, R/T Lettering, the Classic Challenger script and so much more.

You have no items to compare.