Billy Boat Performance Exhaust for Corvette C5, C6 & C7
Killer Rumble with a Billy Boat Performance Exhaust
Yes, Corvettes are known for being fast. And while that is true, they're also infamous for rolling out of the factory with an exhaust system that sounds more like your grandpa's Lincoln. Now if you're a car guy and you want to let everyone know that your car doesn't run like your grandpa's Lincoln, you probably find yourself looking for an aftermarket exhaust system for your Corvette. Here at Southern Car Parts, we carry Billy Boat exhaust systems that can easily become the solution to help you match the sound to your Vette's performance.
Billy Boat performance exhaust systems are made from high-quality stainless steel and are all hand built right here in the USA. If you ever wondered where your performance products come from or who really designs them to meet the best performance standards, you don't have to wonder here. By going with Indy Car Racing gear you know that Billy Boat himself designs these Billy Boat Corvette exhaust systems. Like with all exhaust systems, you have some decisions to make. You have to figure out which exhaust system best fits your situation. You can pick from three different main types of Billy Boat exhausts for your C5, C6 and C7. The first type of exhaust system in this lineup is the Billy Boat Bullet exhaust. This is your loud and proud exhaust system. Your Corvette will sound fast and mean at all RPM levels, including at idle. If you want to be heard, this is your best bet. The next Billy Boat C7 exhaust system we offer is our PRT system. This one is better suited for the conservative Corvette driver. While this system still offers a sweet sound when getting into the throttle, it allows you to drive down the road at a normal speed without a whole lot of excess exhaust noise. The benefit? Your entire neighborhood won't know every time you're coming or going. The third Billy Boat exhaust system we offer is probably our most popular - the Billy Boat Fusion exhaust system. This system gives drivers the best of two worlds. It combines the Bullet system and the best of the PRT system. These C5 Corvette Billy Boat exhaust systems work just like the NNP exhaust options that the newer Corvettes are equipped with. They use engine vacuum to open and close butterfly valves to allow you to drive with low exhaust volumes at low speeds, but when you get into the throttle, the exhaust system has no problem making the ground shake. To find the perfect Billy Boat exhaust C6 system, browse our inventory. You'll find that we offer plenty of configuration solutions, diameter options and Billy Boat exhaust tip options. Southern Car Parts understands that an exhaust upgrade is a huge decision for a car enthusiast. The way your car sounds can make all the difference in how you feel about it. So, if you have any questions about our Billy Boat performance exhaust systems, feel free to call us. Our knowledgeable and friendly staff is always here to help.
Billy Boat Performance Exhaust | Corvette Billy Boat
Corvette B&B Exhaust systems are some of the greatest quality made in the country
All Billy Boat exhaust systems are made right here in the USA, all made of stainless steel. When you purchase a B&B exhaust system you can know that you have a hand built system that is made by one of the greats of Indy Car Racing - Billy Boat. The B&B Corvette line of products that Southern Car Parts carries is unmatched. While most vendors "drop ship" your order. Most of the popular B&B Corvette systems are kept in stock at our warehouse for immediate shipment. This means a few things for you..First, you know that your order is shipping out now. Meaning no delay, many vendors are weeks before they ship. Second, you know we are in control of the order from start to finish and this means you get the best price possible.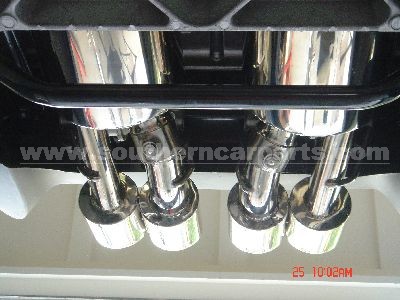 Billy Boat has three basic muffler systems available:
1. Bullet system - This is the meanest, loudest, most aggressive system you can buy for your Corvette. If you really want to be heard and love the sound of American V8 engines at their finest, then this is the system for you. The Billy Boat Bullet exhaust system is aggressive and most free flowing of all systems available. Some of the popular versions are:
- C5 Corvette Bullet, single tips, or FCOR-0105
- C5 Corvette Bullet, dual tips, or FCOR-0100
- C6 Corvette Bullet, dual tips, or FCOR-0510
- C7 Corvette Bullet, Speedway tips, or FCOR-0617
2. The PRT system - This is a unique design to Billy Boat. The PRT Corvette exhaust systems features a special device, instead of a muffler that does not allow drown. The PRT is a very popular design that many C5 Corvette, C6 Corvette and C7 Corvette owners will instead on. Some popular PRT Corvette B&B systems include:
-C5 Corvette PRT FCOR-0205
-C6 Corvette PRT FCOR-0525
-C7 Corvette PRT w/Round Tips FCOR-0625 and also the PRT w/Speedway Tips FCOR-0627
3. The Fusion Billy Boat System - This system is the top of the line B&B Corvette system. The Fusion system employs the Bullet side of the loud mufflers and the normal driving side of the PRT "mufflers". With a Corvette Fusion exhaust system you really get the best of both worlds. Some of the more popular Corvette Fusion exhaust systems will include:
-C5 Corvette B&B Fusion, FCOR-0150
-C6 Corvette B&B Fusion, FCOR-0566 and FCOR-0564
-C7 Corvette B&B Fusion, FCOR-0667FCOR-0667 and C7 Z06 FCOR-0677
One thing you can be sure, no matter the Corvette Billy Boat exhaust system you chose, you can know you get the best quality in the world. If you are unsure which B&B performance exhaust system is right for you, please do not hesitate to pick up the phone and give us a call. We know the Billy Boat line of Corvette exhaust systems better than anyone else and we can help you chose the right system for your desires and needs.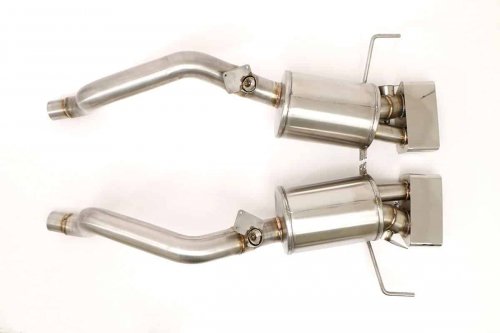 B&B Exhaust
---
Minimal Price: $ 305.15 305.15