Kooks Custom Headers
---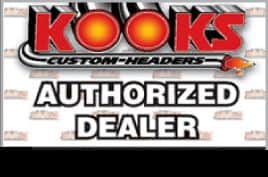 Kooks Custom Headers
Kooks Headers have everything you need for your complete exhaust system. From catted or non-cat x-pipes and plasma-cut flanges to merge collectors and gaskets all available in stainless steel and aluminized from Kooks. All Kooks headers and X pipes come with a lifetime warranty and are simply the best made exhaust components in the business. Kooks designs all their headers with a patent pending scavenger spike in their collectors. These spikes increase the velocity of the exhaust and cause a vacuum effect for the exhaust gases to exit the cylinder heads, thus creating a large increase in power. Get the best, stick with Kooks Headers

All Kooks Header systems feature
- Kooks puts in over 45+ years of race winning experience into each header system they produce.
- All Kooks Stainless Steel Systems come with a Lifetime Warrantee.
- Kook Headers yield the largest gain in horsepower out of any other header company.
- Flanges are 3/8" thick and are made from 304 grade Stainless Steel.
- Ball and Socket construction leaves a leak free seal between headers and x-pipes.
- Kooks offer large diameter headers for high horsepower applications.
- Kooks utilizes a scavenger spike (patent pending) in each of their collectors. These spikes increase the velocity of the exhaust and causes a vacuum effect for the exhaust gases to exit the cylinder heads, thus creating a large increase in power.

When it comes to headers and exhaust systems, Kooks is an industry standard. Kooks Custom Headers has been building headers since 1962, when George Kook Sr. used his gas torch to build his first set of headers for the family race car. Being heavily involved in racing, his talents did not go unnoticed by all the local competition he would beat on the strip. With the help of George Kook Jr. President of Kooks Custom headers, Kooks has grown to a full fledge manufacturing facility in which hundreds of thousands of headers and exhaust systems are sold each year. Kooks Products.
Minimal Price: $ 467.98 467.98