Home

/

Mustang Floor Mats
Mustang Floor Mats
---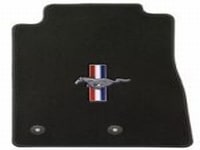 Ford Mustang Floor Mats
Lloyd's Mats Floor Mats for the Ford Mustang
From Lloyd Mats, we offer the full line of Ford Mustang. Our Lloyds Embroidered Ultimat Mustang floor mats can be designed with fully licensed embroidered logos for your Mustang. Lloyds mats uses carpet that is a multi-layer construction designed specifically for car, truck and SUV use. They use a premium nylon yarn that provides excellent wear characteristics and durability. Ulitmats are constructed with premium nylon 2 ply continuous filament yarn in each square yard. Durability and density is created by twisting and heat-setting two pieces of yarn together in each woven tuft. Ultimats have 4 layers of backing: Polypropylene mesh gives the tufted yarn its shape, extra heavy latex creates stiffness to help maintain mat shape, water-resistant layer to keep moisture from the original carpet, finally Tractionbac composition rubber has natural non-skid characteristics. Lloyd mats are designed to be the longest lasting car mats on the market (5 year warranty), fully stain resistant, premium looks, moisture protection, and a non skid backing to keep them in place when you are driving (also utilize factory fastening systems to hold mats in place). Each mat set comes with mechanical anchoring devices to make use of the factory OEM fastening system, to ensure sure the mats do not get bunched up under your feet.
There are no products matching the selection.
You have no items to compare.