Home

/

Nissan 350Z Engine Bay Dress-Up
Nissan 350Z Engine Bay Dress-Up
---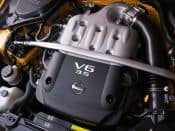 Carbon Fiber Radiator Cooling Plate for the 2003-06 Nissan 350Z by TiTek Innovations TiTek carbon fiber cooling plates are designed to direct air towards the top of the radiators to aid in maintaining lower water temperatures in the Nissan 350Z. A cooler running vehicle is a more efficient and effective running vehicle, and such these cooling plates are incredibly effective engine modification pieces. They are made with very high quality carbon fiber and are surfaced with a nice shiny clear coat to reduce fading from heat. Installation is a breeze, taking as little as 5-10 minutes time.

Dry Carbon Fiber Intake Manifold Cover for the Nissan 350Z by Password:JDM Password:JDM has done it again! They've crafted these exotic, race inspired, dry carbon intake manifold covers to spice up the look of your 2003-2008 Nissan 350z engine bay! Like all of the Dry Carbon parts they manufacture, this intake manifold cover has been precision crafted for a perfect fitment every time. Password:JDM used a fade resistant resin during the manufacturing process to ensure this plug cover will always look & function as good as the day you bought it!

Free Shipping

This engine bay plate, designed and manufactured by the guys at APR Performance, is a fantastic modification piece for any Nissan 350Z. Designed to block the hot engine air from interfering with the radiator's cooling process. It is also meant to help keep the cold air coming against the radiator. Everyone knows that a car performs best when its cooling systems are maximized as well, making this both stylish and functional for the engine bay of your 350Z. APR Performance has been making top end Carbon Fiber body pieces for the world's most exciting cars for years now, and they've built an incredible reputation on their world class standards in production methods, materials, and workmanship. The end result is that their Carbon Fiber parts are lightweight and durable, and offer fit and finish that's second to none!
You have no items to compare.