Home

/

Nissan 370Z Interior
Nissan 370Z Interior
---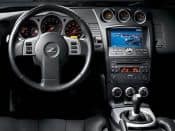 Parts and Accessories for the interior of your Nissan 370Z. Everything you need to spice up your interior is located here.
Regular Price: $139.99

Special Price $99.99

CNC Machined from Aircraft Quality Billet Aluminum Racing Pedal Set for the Nissan 370Z These racing pedals, designed and manufactured for the Nissan 370Z, are made from CNC Machined aircraft quality billet aluminum, and anodized and machined for the ultimate style and finish. Available in multiple different machined finishes and anodized color finishes, these pedals equate to the ultimate in both style and function. Machined for ultimate grip, and designed for a premium race-car like shifting experience, these pedal sets are designed to improve the racing drivability of your 370Z while also giving it a fantastic interior finish and appearance. Available in the following machined finish options: Grid and Block Anodizing options are also available. You can order your pedal set without color anodizing or with black/Silver anodizing. Available for both the Manual and Automatic Transmission 370Z. Also available with the billet aluminum foot-rest plate. Because of the custom nature of these pedals, production time can sometimes run 3-4 weeks and up. Please allow this lead time before shipping.FREE SHIPPING to the Continental 48 States! Install Information: When installing our pedals you do have to drill holes into your factory pedals. Once installed, our pedals are a part of your car with no chance of coming off. All hardware is stainless steel and provided. The instructions below are applicable to most cars. However, some cars will have a slightly different installation procedure. These differences should be noted on the pedal page for the vehicle. The typical installation time is 30 minutes to 1 hour. Your results may vary. If you ever decide to remove your SRP pedals, the factory rubber covers can be put back on the brake and clutch to cover the holes. The holes you drill into the gas pedal and footrest are really small enough to not be noticed, unless looked at closely. Tools required: Drill - 3/16" drill bit Phillips head screwdriver - 1/16" drill bit 9mm wrench - Center punch Warning: Make sure you wear safety glasses during this installation. 1. Remove any factory rubber or factory metal/plastic sport covers or any other aftermarket pedal covers from the brake, clutch and/or gas pedal when and if applicable. Most factory rubber covers will pull right off. Some factory metal/plastic sport pedal covers have rivets which must be drilled out (do not drill thru pedal yet) with a 1/8" drill bit to remove the cover. 2. Put masking tape on the brake and clutch and mark the mounting holes using the aluminum pedals as a template. Make note of where the rod is welded to the back side of the pedal pad in relationship to the holes in the billet cover. Align the billet covers in such a way that after you drill through the pedals there will be room to install and hold the nuts on the back side of the pedals. 3. Use your center punch and hammer and punch your mounting holes marked on the brake and clutch. Use the 1/16" drill bit to drill pilot holes, followed by the 3/16" bit. Mount the brake and clutch using machine screws and lock nuts. 4. Put masking tape and the gas pedal and footrest. Using the aluminum cover, mark your mounting holes. Remove aluminum cover. Drill pilot holes with 1/16" drill bit. Tap the holes with the pointy self tapping screws. Remove screws, put pedal into position, and attach using self tapping screws. ·Check that all pedals are securely attached using all mounting locations. ·Make sure all pedals have adequate clearance between adjacent pedals and floor covering. ·After driving, recheck all pedals to make sure they are secure. ·NOTE: the gas pedal is typically smooth so that your foot will slide across it. Because of the custom nature of these pedals, production time can sometimes run 3-4 weeks and up. Please allow this lead time before shipping.
Minimal Price: $ 99.99 99.99