C6 Corvette Reproduction Wheels
---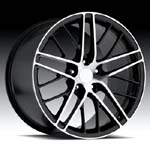 C6 Corvette Reproduction Wheels
One of the most noticable modifications a person can do to their Corvette is to upgrade the wheels. New wheels are fantastic highlights for the curvature and styling of the incredible Corvette body and really help draw more attention to the vehicle than ever before. Eye catching and striking in look and style, new wheels are both fun and practical modification pieces. By adding a set of new wheels to your C6 Corvette you'll not only be increasing the vehicle's show ability and value, you'll be increasing its fun, and can even put on larger wheels that will allow you to install a set of new, more performance focused tires. It's a true win-win!
Some of our more popular C6 Corvette reproduction wheel packages include the C6 Z06 chrome set. These are identical to what GM put on the C6 Z06 from the factory. If you really want to give your C6 Corvette a fresh look then you'll be excited to learn that Southern Car Parts offers C7 Z06 reproduction wheels in various sizes for the C6 Corvette. These C7 Z06 style wheels are available in chrome and also in black.
One thing you can be sure. When you purchase a new set of C6 Corvette wheels from SCP, you'll get three things. Number one, you'll get the most competitive prices in the country. You'll get everything you need to install your new Corvette wheels, meaning a complete set of four, new set of lug nuts and locks as well as center caps. Lastly, you'll get honest advice and we'll help steer you in the right direction to what we think you might be looking for. When time comes for a new set of rims for your 2005-2013 Corvette, let us know, we'll help you make the decision.
C6 Corvette Reproduction Wheels
Minimal Price: $ 16.00 16