Corvette C6 Parts
---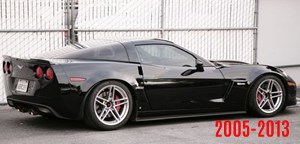 2005-2013 C6 Corvette & Accessories
Revamp your sixth-generation Chevrolet Corvette with top-notch C6 Corvette accessories from Southern Car Parts. We offer 2005-2013 C6 Corvette accessories to help you enhance your vehicle inside and out. Plus, we constantly update our C6 Corvette accessories inventory to make it simple for you to discover the ideal parts at the best prices.
Browse C6 Corvette Parts from Southern Car Parts
Southern Car Parts sells only the best C6 Corvette parts from industry-leading brands. By doing so, we ensure that you can pick up the C6 Corvette accessories that you need to get the optimal results from your vehicle.
If you want seat covers, sun shields or even a Corvette net, check out our C6 Corvette interior accessories. We supply best-in-class C6 Corvette parts so you can personalize your vehicle's interior quickly and effortlessly. In addition, our Corvette C6 parts come from proven manufacturers like CoverKing and Dashtronix, guaranteeing that you'll be able to enjoy our interior accessories for an extended period of time.
For those who want their C6 Corvette to stand out in a crowd, take a look at our C6 Corvette exterior accessories. Our collection of C6 Corvette accessories includes everything you'll need to give your C6 Corvette a fresh look and feel. We even provide hoods, grilles, vents and other exterior parts so you can customize your vehicle's exterior to match your personality.
Of course, any C6 Corvette enthusiast will want to explore our C6 Corvette intakes. We supply cold air, ram air and performance intake systems to help you boost your C6 Corvette's horsepower. Our C6 Corvette intakes usually require only about an hour to install, and the benefits that they provide may last for years.
When it comes to C6 Corvette aftermarket parts, there are lots of options at your disposal. Lucky for you, we employ a dedicated team of automotive experts who are happy to help you in any way we can.
Our 12-man team will provide honest advice about C6 Corvette accessories. That way, you should have no trouble finding the right C6 Corvette parts any time you shop with us.
Ready to get the most out of your C6 Corvette? Choose Southern Car Parts, and you're sure to enjoy a large selection of superior C6 Corvette performance parts.
The Southern Car Parts team takes pride in offering C6 Corvette accessories that you won't find elsewhere. We pay special attention to our customers' needs, and as such, strive to provide a massive collection of outstanding C6 Corvette aftermarket parts day after day.
We also stand behind all of the C6 Corvette parts that we sell. And if you want to return a product, we offer a money-back guarantee within 30 days of purchase. As long as the product is in new condition and includes the original packaging, we'll issue a refund.
Select Southern Car Parts, and you can pick up first-rate C6 Corvette accessories at affordable prices.
We here at Southern Car Parts are proud to offer a large catalog of Corvette Exhaust systems, Corvette Carbon Fiber, Corvette Brakes, Corvette Custom Trim, Corvette Custom Leather accessories, Corvette Headers, Corvette Cold Air Intakes, and other Corvette Performance and Customization parts and accessories. With a catalog filled with Corvette products manufacturers like Corvette APR Performance Carbon Fiber Products, Corvette Borla Performance Exhaust Systems, Corvette Billy Boat Exhausts, Corvette Akrapovic Exhausts, Baer Corvette Brakes, Corvette DBA Brakes, Corvette American Racing Headers, Corvette Custom Leather Products, and many many others you can rest assured that at Southern Car Parts you can find all of the parts you may need or want for your C6 Corvette and that each will be of the highest quality. Each and every product in our catalog too is carefully selected to allow for the most competitive pricing anywhere. Whatever your custom Corvette parts needs, we here at Southern Car Parts can certainly help you out.
Minimal Price: $ -40.01 -40.01