Corvette C6 Brakes
---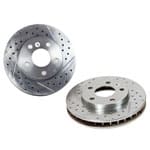 C6 Corvette Brakes, Brake Pads, Rotors, and More
Everyone needs a brake system that works, but some cars need a brake system that is a little beefier and sophisticated. If you drive a C6 Corvette, you drive one of those cars that just needs a little bit more out of your brake system. Here at Southern Car Parts, we have the best C6 brakes, rotors, calipers and other brake accessories to help you give your Corvette the kind of brake system it deserves.
Only dealing with the biggest brake manufacturers in the business allows us to offer you the best of the best when it comes to C6 Corvette Z06 brakes. Parts like our Hawk Ceramic front C6 Corvette brake pads are designed to last longer while helping you stop better. Our DBA 4000 C6 Corvette brake rotors are also designed to help you stop better. They also complement all C6 brake pads by giving them a longer life. Pads wear out so fast, especially if you're into competitive driving, anything you can do to get more miles out of them is a benefit.
A Quicker, Safer Stop with Our C6 Corvette Brakes & C6 Z06 Brakes
Finding the right set of calipers for your C6 Z06 brakes can also be a big decision. Although performance is a big deal in this department, looks also become part of the equation. Since most Corvette wheels show off much of the caliper and its color and design, there are many reasons to put a lot of thought into your caliper C6 Corvette brake kits. Southern Car Parts offers you a big selection of calipers for your C6 Corvette front brakes and rear brakes. Our inventory offers you different colors and different logos to choose from. Red and yellow are some of the most popular colors people choose for their C6 brakes. We also offer colored powder coated versions that a lot of car people find to be much stronger and heat tolerant. If you're into high-performance track racing this is a definite great way to go. If heavy duty performance is what you're shooting for then a set of C6 Z06 brakes will really help you achieve that. The Z06 is one of the most powerful mass produced Corvettes, and their brake systems are track ready. If you're looking for something that will sit behind the stock wheel of your Stingray or Grand Sport and still give you the stopping power of a brake system that is race ready then a set of C6 Z06 brakes may be your best option.
C6 Corvette brakes may not be the part of our cars that strikes up huge hot rod conversations among our car buddies, but they are the part of our cars that keep us alive to have those conversations. Whether you need components for your C6 Corvette rear brakes or your front, check out Southern Car Parts awesome selection. We have the best selection on the web with the best prices.