Corvette C5 Parts
---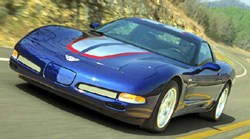 1997-2004 C5 Corvette Parts & Accessories
Aftermarket Performance and Style Parts and Accessories for the C5 Corvette
Transform the look and feel of your fifth-generation Chevrolet Corvette thanks to the C5 Corvette parts available from Southern Car Parts.
At Southern Car Parts, we're passionate about all things cars. As such, we supply many top-of-the-line C5 Corvette accessories to help you achieve your vehicle restoration goals. And if you ever have concerns or questions about how to enhance your C5 Corvette's appearance or performance, our C5 Corvette parts experts are happy to offer honest, unbiased recommendations.
Searching for ways to enhance the body of your C5 Corvette? Browse our C5 Corvette body parts collection, and you'll be able to personalize your vehicle's exterior. We provide C5 Corvette body parts such as diffusers, side skirts and spoilers so you can give your vehicle a custom appearance.
If you want to boost your C5 Corvette's performance, you'll definitely want to review our C5 Corvette engine parts and accessories. We offer C5 Corvette air filters, engine mounts and other engine products, guaranteeing that you can maximize your vehicle's performance.
Or, if you are looking to turn your ordinary C5 Corvette interior into a fabulous one, evaluate our first-rate C5 Corvette interior accessories. We understand that Corvette owners take pride in the way their vehicles look both inside and out. Therefore, we provide superb C5 Corvette floor mats, shift knobs, trim and other interior products to make it easy to personalize your vehicle's interior.
Southern Car Parts wants you to be fully satisfied with any C5 Corvette performance parts that you buy from us. We even offer a money-back guarantee. And if you not satisfied with your C5 Corvette parts, you can return them for a full refund within 30 days of purchase as long as the items are in new condition and include the original packaging.
Purchase High-Quality C5 Corvette Accessories from Southern Car Parts
At Southern Car Parts, we strive to be different from other C5 Corvette parts suppliers. Unlike the competition, we go above and beyond the call of duty to offer first-rate 1997-2004 Corvette parts that are constructed to last. We also take pride in our work and strive to educate our customers about all of our C5 Corvette parts. By doing so, we'll help you take the guesswork out of shopping for Corvette C5 parts and ensure that you can find the best accessories.
Discover the ideal C5 Corvette parts so that you can improve your vehicle. Choose Southern Car Parts, and you can pick up superior C5 Corvette parts at budget-friendly prices.
Check Out a Large Collection of C5 Corvette Parts
Southern Car Parts is committed to offering C5 Corvette parts that will serve you well for an extended period of time. Thus, we continuously update our C5 Corvette accessories inventory to meet or exceed your expectations. We even supply C5 Corvette aftermarket parts from American Car Craft, B&M, Cobb Tuning and other world-renowned brands, ensuring that you can pick up the best C5 Corvette parts at the lowest prices.