Corvette C7 Parts
---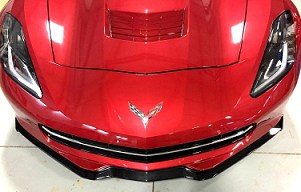 2014-2018 C7 Corvette Stingray Parts | C7 Corvette Z06 Parts | C7 Corvette Grand Sport Parts and Accessories
Corvette C7 Accessories
Seventh-generation Chevrolet Corvette owners rejoice! Southern Car Parts supplies all of the C7 Corvette accessories that you'll need to customize your vehicle.
At Southern Car Parts, no customer request is too big or too small. As such, we go the extra mile to supply Corvette C7 accessories that may be impossible to find elsewhere.
We also take pride in employing a team of automotive experts that will respond to your C7 Corvette accessories questions with honesty and integrity. That way, our staff is happy to provide unbiased Corvette C7 accessories recommendations.
Pick Up Superior C7 Corvette Accessories from Southern Car Parts
The C7 Corvette ranks among the best Corvettes ever built. Thus, the C7 Corvette demands the latest and greatest accessories to improve its appearance and performance.
Southern Car Parts is committed to its clientele and constantly updates its C7 Corvette accessories inventory to exceed our customers' expectations. We carefully select Corvette C7 parts for our inventory and will do everything possible to supply you with the best accessories at significant discounts.
If you want to give your C7 Corvette a look and feel all its own, you'll definitely want to browse our C7 Corvette exterior accessories. Our 2014-2018 Corvette exterior accessories come from American Car Craft, APR Performance, Borla Exhaust, ACS Composites and other world-renowned automotive parts suppliers, ensuring that you won't have to settle for second-rate products. Plus, our best-in-class selection of C7 Corvette exterior parts includes front splitters, LED lighting kits and more.
For those who want to enjoy a comfortable and stylish interior, explore our C7 Corvette interior parts. We carry a broad range of C7 Corvette aftermarket parts so you can reinvent your vehicle's interior. Our collection of C7 Corvette interior accessories features CoverKing seat covers, custom leather dress-up items and other top-of-the-line products.
C7 Corvette owners who are committed to adding horsepower can take advantage of our Corvette C7 performance parts. We allocate substantial time and resources to find first-rate C7 Corvette performance parts that will serve you well for years to come. Today, our C7 Corvette performance parts inventory includes air intakes and filters, superchargers and even suspension parts so you can fine-tune your Corvette to your heart's delight.
If you ever have concerns or questions about any of our C7 Corvette accessories, don't hesitate to ask us for help. We're passionate about all things automotive and are dedicated to helping you find the optimal C7 Corvette parts at budget-friendly prices. As a result, we're able to respond to your C7 Corvette parts questions instantly.
Enjoy C7 Corvette Accessories from Southern Car Parts
Southern Car Parts recognizes that the C7 Corvette is a high-performance sports car unlike any other on the planet. And with our attention to detail and devotion to our clientele, we make it easy for you to find high-quality C7 Corvette accessories at the lowest prices.
Shop with Southern Car Parts, and you can buy C7 Corvette parts to help you get the most out of your vehicle.
Minimal Price: $ 5.99 5.99