Corvette C7 Car Covers
---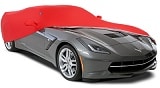 2014-2018 C7 Corvette Stingray Car Covers
There is not a whole lot of reasons you would want to purchase a C7 Corvette car cover, there is just one very important one, to protect your investment. Whether you need an outdoor, indoor, or a multipurpose car cover for your 2014+ Corvette, it just might be the best investment you make second to your beloved sports car.
C7 Corvette Indoor Car Covers
If your car spends a lot of time in the garage, but so do you, even know it may seem safe from the outdoor elements, the indoor elements can be just as hazardous. With our Southern Car Parts.com C7 Corvette covers, you can be sure whatever you are doing in your garage you will be able to keep your car safe. Whether it's your C7 Corvette Stingray, ZO6 or your Grand Sport convertible that you're protecting with a car cover, it will be safe from kids, visitors or even your own clumsy self.
C7 Corvette Outdoor Car Covers
But as most of us know, outdoors is usually a little more hazardous to an investment, and not all of us have the luxury of storing our vehicles inside. If you're in a position where you have to leave your beauty outside, then you might want to check out our Econotech C7 Corvette car cover. An affordable choice that is designed to repel dirt and water and comes with a cable and lock. So once your car cover for your C7 Corvette is positioned properly, you can then use the cable to tighten around the bottom and lock it in place. This is a great function for an outdoor stored C7 Corvette because the car cover will be protected from flying away when the wind gets gusty. Even better, these C7 Chevy Corvette car covers are designed and are great for indoor use as well.
Custom Fit C7 Corvette Car Covers
Another place you might find yourself in need of a C7 Corvette car cover is at a car show. We spend a lot of time making our cars look beautiful for these shows, but keeping them looking that way throughout the day can be a problem. Our Autobody Armor Coverking C7 Corvette covers are an absolutely awesome way to combat the unexpected at car shows. With a Satin Stretch look on the outside and your choice of colors, even if your beauty is hidden for a while it can still look good. The nice thing about these C7 Corvette covers is that they are custom fit for your year and model. That means you won't have a problem getting them on or off your vehicle no matter how many people are watching you at the car show.
For the only and best C7 Corvette car cover you will ever need, Southern Car Parts.com is the best place to shop. From the car shows to your garage, protecting your investment is the name of the game. We offer you the best name brands in the business with the coolest color schemes and the highest grade materials to keep your C7 Corvette safe wherever you have to have it when it's stationary.
C7 Corvette Stingray and Z06 Indoor Car Covers | C7 Corvette Stingray and Z06 Indoor/Outdoor Car Covers | C7 Corvette/Z06 Covercraft | C7 Corvette/Z06 Coverking
Purchase Your C7 Corvette Car Cover Today!
Minimal Price: $ 49.99 49.99