Dodge Challenger Parts
---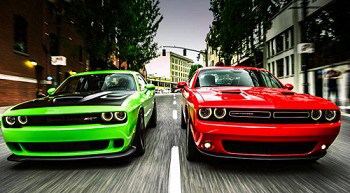 2009-2017 Dodge Challenger Parts & Accessories
The Dodge Challenger is a muscle like no other. Powerful and sleek looking, unlike other powerful cars from this generation, you can easily fit three passengers comfortably and have some fun. Upgrading with Dodge Challenger accessories is just part of the Dodge car culture. If you're looking to make visual upgrades and power upgrades then you've come to the right place. Shop our Southern Car Parts inventory for the best Dodge Challenger parts and accessories, we guarantee you prices that will help you save.
If you're looking to add to the visual aspect of your Dodge Challenger then maybe a 2008-2014 Dodge Challenger Carbon Fiber Hood might be a good choice for you. Lightweight and mean looking, if you're a drag racer or some other type of competition driver, this will help you intimidate and get better time slips. You might also find yourself doing a lot of intimidating with a 2008-2010 Dodge Challenger Carbon Fiber Front Lip. These Dodge Challenger aftermarket parts will help you more at the road course more then the drag strip, but they will intimidate at either place. A 2008-2014 Dodge Challenger Carbon Fiber Lower Tail Light Surround might help you intimidate at car shows. When you have all three Challenger parts installed, you have a look that can help you win awards.
Best Dodge Challenger Accessories and Parts
Stripes and decals - wheels and tires these are all great ways to help you catch some attention, intimidate and standout from the Dodge Challenger crowd. We even sell a set of Eibach Pro Kit springs for the SRT8 and the Challenger R/T. These particular Challenger accessories not only give your muscle car an aggressive stance, but they also improve handling by lowering your car's center of gravity. If you enjoy hitting turns at high speeds, then you will definitely want these 2016 Dodge Challenger accessories installed.
If hitting high speeds of any kind is your thing, then we have the Dodge Challenger performance parts you're looking for. An exhaust system is a must. We deal with manufacturers like Kooks, Magnaflow, Corsa, Borla, American Racing Headers and more. You can redo your whole exhaust system from a new set of headers all the way back, or you can do a partial exhaust, whichever way you go, you will be creating a more powerful sound while at the same time adding power. Another one of our Challenger accessories that will help you add power is our cold air intake systems. Much quicker and easier to install than an exhaust system, these 2015 Dodge Challenger accessories will add up to 11+ horsepower and 20-lb.-ft. of torque. Of course, there is always a bigger way to go to gain some real major power. Our 2009-2017 Dodge Challenger SRT8 Edelbrock E-Force Supercharger is one powerful product that will put some massive tire burning power underneath your right foot. The nice thing about these Dodge Challenger performance parts is they are direct bolts-ups and fit right under your hood. It should be noted that an upgrade of this magnitude will require some major computer tuning.
If you're going to put that much work into making your engine perform so well, then you should probably also think about making it look just as good. At one point or another, someone is going to want to see what makes all that power and a stock looking engine bay isn't going to impress anyone too much. We offer a whole line of Dodge Challenger accessories to help you make your engine look as good as it sounds and runs. Custom painted fuel rail covers, custom plenum covers, stainless steel firewall kits, polished header plates and more can all be purchased in an attempt to make your Challenger's engine bay look spectacular.
We also have interior dress up parts that can turn your Challenger's interior into something unique. We have stainless steel trim parts that can be placed throughout the cabin to give it a real elegant feel. We also sell carbon fiber trim parts for a more race car feel if that is the vibe you are after. Both materials are much easier to keep clean then stock and can take much more punishment through the years then stock interior Challenger accessories.
If you're ready to continue adding to the good looks of your Challenger or you want to add more horsepower and torque, Southern Car Parts is here to help. Our line of Dodge Challenger accessories and high-performance parts can give you the edge you need at car shows and race events.
This article was composed with one of the best online HTML tools. Please purchase a htmlg membership to stop adding links to the edited documents.
Minimal Price: $ 9.95 9.95