Challenger Cold Air Intake
---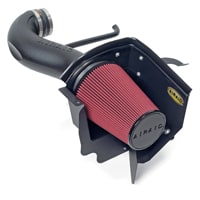 2009-2017 Dodge Challenger Cold Air Intakes
Cold Air Intake and Forced Induction Systems for the Dodge Challenger
If you are looking to add some horsepower gains to your new Dodge Challenger, the intake is the first place to look for a quick boost in power. Defined as "Bolt on Horsepower", replacing your intake with a high flow cold air intake will usually get you 7-12 hp instantly without a tune or any other changes, and can provide even more power and performance when coupled with other performance parts. Intakes help your Challenger run more smoothly and efficiently, and at the price point you'll find them at, are the de facto bargain modification piece for your Dodge Challenger.
Southern Car Parts has all of the greatest Challenger Cold Air intakes available, Airaid, R2C, aFe Momentum, K&N Filters, Roto-Fab and more.
At Southern Car Parts, we have a large collection of aftermarket goods like modifiers, replacements and accessories etc. for Challenger and many other cars like Mustangs, Camaros, and Raptors etc. We are a leading online store and we keep improving our products every now and then. We add goods with latest upgrades and update our inventory often, introducing options to different categories every week, so make it a habit to check back often to stay at pace with our latest products. Despite the huge bevy, we only carry 100% authentic products, only from top-notch manufacturers to ensure that only the finest quality products are served to our customers. All these products are also priced at reasonable prices after keeping all the budget standards in mind.
We are always at your service to satisfy all your needs related to aftermarket goods. We have a huge collection of both interior and exterior parts for your Challenger. We have almost everything to add to the beauty and performance of this muscle giant. This stylish yet powerful car has never let us down and has passed all our performance tests. It is No.1 in terms of built, durability and performance, which makes it one of our favorites. This moved us to create something good enough to match the performance of this modern yet classic muscle car and add to its performance. Our complete collection of aftermarket goods is created in a way that it sustains the high demands of a Challenger owner. Our well-engineered range of cold air intakes and other forced induction systems not just adds to the power of this muscle beast but also keeps it above other muscle cars in the crowd.
We will be glad to assist you even if you have just one query or ten. Consider adding to the horsepower of your car, the idea itself is thrilling and so will be the driving experience. Or if you're looking for a filtration kit, you can pick up an SRT Airaid unit, K&N replacement filter to keep your Dodge Challenger fully high on performance. Check out our cold air intake, roto-fab intake, intake system and supercharger to add a power boost to your car. We offer free shipping on most of our products and many other offers to keep replacement cost light on your pocket. With the latest variety of products to select from, shopping can actually become fun. So think no more and shop for your Challenger requirements and add more horsepower to it today. In case you have any queries, don't think twice before contacting the cooperative and friendly sales staff at SCP! Browse through our category of cold air intakes here/
Challenger Cold Air Intake
Minimal Price: $ 37.04 37.04