2016-2018 Camaro Parts and Accessories
---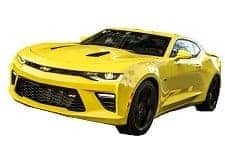 Shop 2016-2018 Camaro Accessories
We know Camaros as pure muscle cars with stylish curves that people just can't get enough of. We also know that the aftermarket industry offers owners plenty of options to add more power and style to their already stout looking beast. Here at Southern Car Parts, we bring you all of those aftermarket options all in one place for your one-stop shop for Camaro parts and accessories.
Southern Car Parts likes to hear it when our customers want to add performance to their Camaros. We understand that not everyone has the mechanically skills to do a complete engine overhaul, but we do offer plenty of Camaro performance parts that can be done right in your driveway with a simple set of tools. Like our cold air intake selection. Our 2016-2018 Camaro Air Intake Systems can usually be installed within 90 minutes using basic tools that just about everyone with a garage has. They are generally good for adding up to 10-20 horsepower and 10-25 pound-feet of torque. We carry brands like K&N, Mishimoto, Airaid, aFe and more.
Affordable 2016-2018 Camaro Accessories and Parts
Other affordable and easy upgrades we carry is our 2016-2018 Camaro Skip Shift Eliminator. These Camaro aftermarket parts are designed to disable the Computer Aided Gear Selection (CAGS) that shifts your Camaro from 1st to 4th when driving at a certain RPMs. If you hate the CAGS, then this part installs in 5 minutes with minimum tools required (automatic only). If you have a manual and you want to have some fun, try our 2016-2018 Camaro Hurst Billet Plus Classic Ball Shifter. This will give you a nice firm grip on your shifter and a shorter path between gears. The short throw function allows you to hit gears more quickly and more efficiently. Aftermarket spark plug wires, Airaid throttle body spacers for your V6 and many other simple Camaro accessories that can make your Camaro driving experience more exhilarating can all be found on our performance pages.
Exhaust systems may not be the easiest 6th Gen Camaro parts to install, but after they are installed, without a doubt they are one of the funniest. Our 2010-2015 Camaro Exhaust Systems not only help you gain a little extra horsepower and better fuel economy, but the feeling of a rumbling exhaust system on a muscle car like the Camaro is a feeling like no other. Our exhaust Camaro parts for your muscle car include exhaust headers, cat-back systems, X-Pipes, NPP exhaust systems, catalytic converter delete pipes and much more. We have many different exhaust Camaro parts to choose from so you can configure your own system. You can do a whole Camaro exhaust upgrade or just a partial one. Depending on how much power you want to get out of your Camaro exhaust upgrade and how much louder you want to go will determine how much of your exhaust you will probably be upgrading.
Having a Camaro that performs well is all good and fun, but adding some extra exterior Camaro custom parts so it looks the part is even better. A front splitter with winglets can really add a race car vibe to your Camaro. A set of splash guards is a set of Chevy Camaro accessories that can both add some flair to the wheel wells and protect your paint from minor road grime that spins off of your tires. A Camaro rear spoiler can always help you add a speed demon look to your Camaro. Our rear spoiler from ACS is a mean but sleek looking spoiler that goes over great wherever you go. This completely functional product helps out at the racetrack and looks so good it goes over great at car shows and cruises. Other exterior Camaro accessories we carry are front grille inserts, blacked out bow-tie emblems, decals and stripes, custom painted fuel doors, painted brake caliper covers and more. If you're trying to add that special exterior look to your Camaro, then look no further, we have the 2016 Camaro accessories you need.
Although those exterior Camaro parts are oftentimes observed much more often by other people, your interior and under the hood appearance could always use a little customizing as well. Our engine bay dress up kits offer you plenty of different options including stainless steel and painted part options to give your Camaro's engine bay a little kick. From covers and caps to engine strut braces, if you want to head to the car show and lift up your hood and show off with pride, you're shopping in the right place. Our Camaro accessories for your interior are much the same. There are plenty of places you can add color to. Our painted Camaro center consoles, door panel overlays, door panel trim kits and colored cushion knee pad trim kits are just few parts that can help add color. It just takes a little imagination and of course a great selection of interior trim parts from us to add that little spunk your interior needs.
Take a look around, you'll find we have lowering kits, car covers, Lloyd floor mats, Camaro apparel and much more for the Camaro enthusiast. For all of your 2017 Camaro accessories and part needs, give us a call at Southern Car Parts today!
2016-2018 Camaro Parts and Accessories