2016-2018 Camaro Engine Bay Dress-Up
---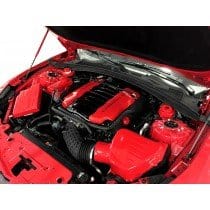 2016-2018 Camaro Engine Dress Up, Engine Covers & Kits
For most car enthusiast, half the fun of owning a special automobile is working on them and customizing them. But a lot car enthusiasts spend a lot of time working on the exterior appearance and forget about what under the hood looks like. Stock engine bays usually look pretty bland and simple and need a little kick to them to help spruce them up. Parts like 2016-2018 Camaro engine covers, trim kits, firewall replacements, Camaro badges, hood liners and other great options are an easy way to take your engine bay from boring to show quality.
Here at Southern Car Parts, we offer a whole line of these great items that can help you spruce up your engine bay so you can show it off with pride. Our line of painted 2016-2018 Camaro engine covers along will prove to be a huge upgrade. Why have another charcoal grey or black plastic look that you will find on everyone else's Camaro, when you could have an engine cover that matches the color of your car. You can even shine brighter if you go with our stainless steel 2016-2018 Camaro engine covers. It's a bold look that will get you a lot of attention at car shows or wherever you decide to open up your hood.
Improved Look with Our 2016-2018 Camaro Engine Dress Up
Engine covers aren't the only place you can upgrade with cooler looking aftermarket parts. Your 2016-2018 Camaro engine bay dress up can start with something as simple as logo specific engine caps. It may not seem like much but when you think about it there is a lot of places where fluids are stored under the hood and all of those places need caps. You can also purchase other 2016-2018 Camaro painted engine parts like fuse box covers, brake reservoir covers, coolant tank covers, fuel rails and more for a cleaner look.
A very noticeable under the hood place that is great for upgrades because people's eyes wander to them real quick is the strut towers. Adding some more 2016-2018 Camaro engine dress up here is lucrative because they are a big portion of the Camaro's engine bay and look amazing when they are painted the same color of the car. The radiator shroud is in the same class. People will notice these parts very easily when looking into the engine bay. Having these 2016-2018 Camaro engine dress up part painted gives a huge boost to your engine bays appearance.
For those car enthusiasts who already know they want it all to match, we also sell a full 2016-2018 Camaro engine bay dress up kit. This kit will give you every part you need, painted and ready to be installed. This helps if you already know exactly the way you want your engine bay to look and saves you the hassle of piecing it together.
Southern Car Parts doesn't want you to forget that under the hood appearance can sometimes be just as important as exterior appearance. So for all your 2016-2018 Camaro painted engine accessories and part needs, give us a call and let us help you look good under the hood. wait no more and grab an engine bay dress up for your Camaro.
2016-2018 Camaro Engine Bay Dress-Up
Minimal Price: $ 24.95 24.95