1968-1982 C3 Corvette Parts
---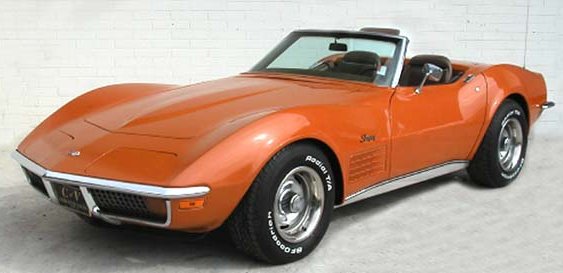 1968-1982 Corvette C3 Parts - Restoration and reproduction
Choose Southern Car Parts, and you can pick up C3 Corvette parts to enhance your C3 Corvette's performance and appearance.
Southern Car Parts offers a massive assortment of Corvette C3 parts. We provide interior, exterior, engine bay and suspension accessories, along with various tough-to-find C3 Corvette performance parts. In addition, we frequently update our C3 Corvette parts inventory, ensuring that you can purchase the right accessories at the right time, every time.
Browse a Broad Assortment of C3 Corvette Parts
Take the guesswork out of finding terrific C3 Corvette parts for sale – shop with Southern Car Parts, and you'll discover a vast array of C3 Corvette body parts that will meet or surpass your expectations.
If you're interested in improving your C3 Corvette's interior, explore our collection of C3 Corvette interior accessories. We provide console accessories, floor mats, mirrors and many other C3 Corvette interior products every day. That way, you can find exactly what you need to transform an ordinary C3 Corvette interior into one that showcases your personal style.
Or, if you want to bolster your C3 Corvette's exterior, check out our C3 Corvette exterior parts. We supply front body hardware, grilles and other exterior accessories so your vehicle can look great at all times.
C3 Corvette owners are sure to appreciate our collection of C3 Corvette engine bay accessories as well. The C3 Corvette boasts a powerful engine, and our C3 Corvette engine bay accessories collection ensures that you can optimize its performance. We provide belts, cables and other engine bay parts that enable you to restore your 1968-1982 Corvette's engine with ease. Comparatively, if you want to boost your C3 Corvette engine's horsepower, we also provide many top-notch C3 Corvette engine bay parts from industry-leading brands.
At Southern Car Parts, we're passionate about automobiles. As such, our 12-man team boasts comprehensive C3 Corvette accessories expertise and is happy to provide unbiased insights.
If you're uncertain about how to personalize your C3 Corvette's interior, our team can offer tips to help you find the best C3 Corvette parts at the lowest prices. Conversely, if you are searching for quick, easy ways to boost your C3 Corvette's performance, our staff can provide advice to ensure that you can revamp your vehicle's horsepower.
Select Southern Car Parts for C3 Corvette Performance Parts
Purchasing Corvette C3 parts should be fast and easy. Thanks to Southern Car Parts, you can streamline the process of buying high-quality Corvette C3 parts.
Southern Car Parts serves as a leading supplier of Corvette C3 parts. We also strive to provide a stress-free shopping experience, one that ensures you can pick up first-rate C3 Corvette accessories at budget-friendly prices. And if you are ever dissatisfied with a C3 Corvette part or accessory, you can return it for a full refund within 30 days of purchase as long as you provide the original packaging and the item is in new condition.
Shop with Southern Car Parts for exceptional C3 Corvette accessories.
1968-1982 C3 Corvette Parts
Minimal Price: $ 0.87 0.87