C3 Corvette Suspension
---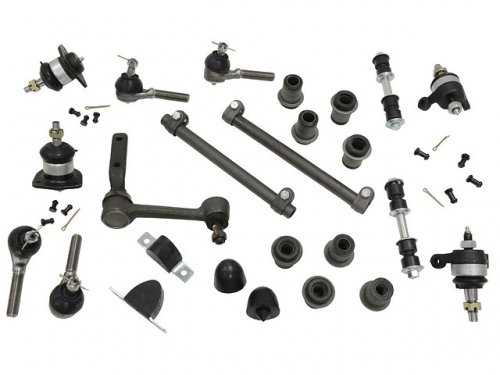 C3 Corvette Suspension, Front and Rear Suspension Kits
C3 Corvettes are some of the coolest and most sought after Corvettes in America. But like all cars, Corvette parts wear out and need to be replaced. You can't go wrong with replacing old parts, and one major part to consider should be your C3 Corvette suspension upgrade.
Since Corvettes come with a more sport like suspension, they're not made to hit as many road hazards that a lot of states provide us with. Through the years Chevrolet has really improved on making Corvette suspensions both performance capable and luxury like. This helps turn the suspension into something that can perform on the track and at the same time hit potholes without causing a lot of long term damage. This technology wasn't around back when the C3 Corvette was popular. This gives you all the more reason to install C3 Corvette suspension upgrade kits.
Why Buy C3 Corvette Suspension Upgrade Kits?
Southern Car Parts gives you a lot of options when it comes to an upgrade. Sometimes only a C3 Corvette rear suspension upgrade is needed. This doesn't take very much work and can sometimes be done right in your driveway with minimum experience. But more often than not, when choosing between front or rear suspension, you should choose to replace the front first. The C3 Corvette front suspension consists of a lot more components, and also has the stress of all the turns we perform in normal driving situations. That alone can take a much bigger toll on a suspension. The good thing is that Southern Car Parts offers you full front C3 Corvette suspension upgrade kits. They also offer you partial kits and the option to buy just a few parts like ball joints or tie rods. This is great for someone who can really zero in on what kind of suspension problem they have. Not everyone wants to take apart their whole C3 Corvette suspension and replace it if the whole thing doesn't need that kind of attention.
However, a whole C3 Corvette suspension upgrade is recommended if you're trying to make your Corvette drive more like a modern car. And if you plan on doing some performance driving or racing than the best way to go is with a C3 Corvette performance suspension upgrade. Your ability to carve corners and keep all four wheels on the ground at high speeds will be greatly improved. Although you do want to be careful here. Performance C3 Corvette suspension kits might take away the comfortable drivability you are used to. Kit-Correct C3 Corvette upgrade kits might be something that the average driver would find more suitable. Not only are the parts in these kits a direct match to the stock parts that came with your original C3 Corvette suspension, but they will also add to the stability of your ride, the performance and the comfort.
From your C3 Corvette rear suspension upgrades to your full front suspension upgrades, Southern Car Parts is the best place to shop for quality suspension components. We also understand that shopping through our C3 Corvette suspension upgrade kits can be extremely confusing for the novice car person, so we encourage anyone with any questions to give our professionals a call at 1-888-631-1433.
Minimal Price: $ 6.99 6.99