C3 Corvette Emblems
---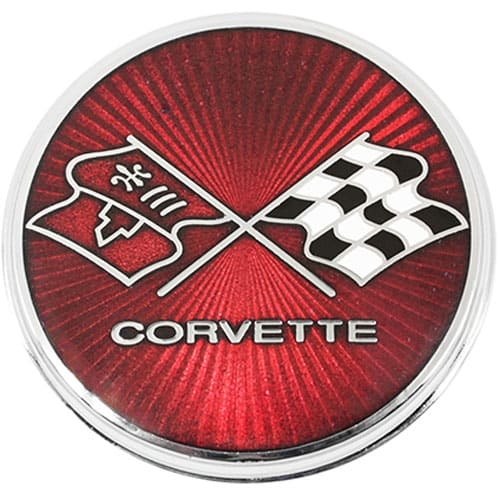 C3 Corvette Emblems, Corvette Stingray Emblems and More
Corvette has always been a symbol of America's prestigious car building abilities. From their performance to their daring style that stuns, you can't go wrong when it comes to owning and driving a Corvette. Here at Southern Car Parts, we understand this prestige, and also know how important it is for Corvettes to look their best, but sometimes that can be a problem if you're missing a Corvette C3 emblem. If you find yourself in the market for a particular C3 Corvette Stingray emblem, then you have come to the right place.
From the legendary C3 Corvette flag emblem to the C3 Corvette racing emblems and every Vette emblem in between, you'll find it here. We know that these items are in high demand for Corvette owners. Sometimes you need to find a C3 Corvette Stingray emblem because yours has simply fallen off, and sometimes you need them because you are busy on a Corvette restoration. Whatever the case may be, a missing C3 Chevy Corvette emblem can mean the difference between having a perfect appearance and having something that isn't up to Corvette standards.
All of our available C3 Corvette emblem purchases are a direct fit to the original versions. This should give every Corvette owner great comfort in knowing that the value of their Corvette won't be penalized for a C3 Corvette hood emblem that doesn't quite look right or letters that aren't the correct style to the year Corvette they have.
The Best C3 Corvette Emblem Shopping Experience
We guarantee you the highest quality, best-looking emblems that you can buy are right here on our website. Sure, you can search through junk yards and swap meets, but you might only find C3 Corvette nose emblems and other emblems that still have to be sanded, polished, painted and even fixed with super glue. So why bother if you can get a new one here with us. The correct cubic inch emblems, model specific emblems, fender emblems, fuel door emblems, rear bumper lettering and much more can all be found right here on our website.
The C3 Corvette came in many different trim options and finding the correct emblems that match your Corvette perfectly can be very difficult. So take some time and search our Southern Car Parts inventory for the correct C3 Corvette Stingray emblem that you need. We guarantee the best prices and the largest selection on the web. If you don't see something on our website that you're looking for, give us a call and we will help you find it. We understand the importance of having the correct C3 Corvette emblem on your beautiful sports car. The incorrect emblem can hurt the value of it and or be the difference in a win at a car show or a loss. So feel free to reach out to us here at Southern Car Parts for our expert advice and assistance.
Minimal Price: $ 27.99 27.99