C3 Corvette Replacement Carpet and Floor Mats
---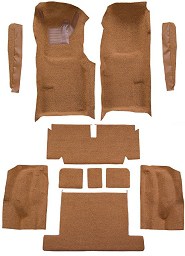 1968-1982 C3 Corvette Replacement Carpet and Floor Mats
Replacement carpet packages can be a very difficult decision when the time comes to get rid of the old and replace with the new inside of your C3 Corvette. Southern Car Parts is the leader in replacement carpet packages for 1968-1982 C3 Corvette.
We carry the best quality replacement and reproduction carpets in the industry - manufactured by Auto Custom Carpets as well as Lloyd Mats. When it comes time to get rid of that old, worn out flooring or floor mats, trust the ACC brand. Automotive carpet is at the heart of what we do. No one has a larger offering or manufactures more flooring products than ACC. Made with true automotive grade carpet, we offer seven original materials plus our premium Essex carpet. If you don't need a full replacement carpet package but only a new set of floor mats, then take a look at our offerings. All of our C3 Corvette floor mats are high quality and licensed by General Motors to meet or exceed the original equipment. All of our C3 Corvette floor mats are available with logos of your choice as well as many color options to meet your expectations and requirements.
Replacing Old Interior Carpet Inside 1963-1967 Corvette
After many years of use your old C3 Corvette carpet is going to need to be replaced. Many times, dirt, grime, shoes and even snow can break down and wear out your original Corvette carpet. By choosing Southern Car Parts and ACC replacement carpet packages you can be sure quality is of the utmost importance, fitment is guaranteed and each set of carpets is proudly made in the USA. We stand behind our Corvette carpet packages. If for any reason you are not entirely satisfied with your new carpet, simply return it to Southern Car Parts for a refund.
C3 Corvette Replacement Carpet and Floor Mats
Minimal Price: $ 60.00 60