C3 Corvette Exterior Parts
---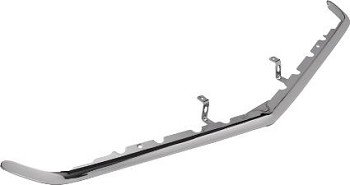 C3 Corvette Exterior Restoration Parts & Accessories
Parts for Your C3 Corvette Exterior Restoration
The restoration of any vehicle can be fun and exciting, but at the same time, it can be frustrating. Parts are hard to find, and time and expenses can always be an issue. We're realistic here at Southern Car Parts, and we believe that most of our customers probably don't have bottomless bank accounts or limitless time. So to help you save time and money, we offer you an inventory of C3 Corvette restoration exterior parts with the best prices all in one place.
We only deal with the best manufacturers, so that you will receive a direct match to the original parts you need. It's hard to make parts fit on a car that is decades old, and that's why we're not just in the business of selling GM restoration parts for your C3 Corvette, but we also help by selling brackets, seals, housings and more. Nothing last forever and that includes the hardware behind the parts that everyone can see.
We sell front and rear bumpers, gas tanks, hood grilles, T-Top kits and even the correct Corvette badges to help you get your prized possession back on the road the way it was meant to be. When you want to win car shows, things have to be right. Missing or incorrect C3 Corvette restoration exterior accessories and parts can be the difference between winning and losing. So don't trust just anyone with your C3 Corvette exterior restoration needs. Let Southern Car Parts find you the right parts for the right year. Even if it's something as small as wheel center caps, you don't have to scour the junkyards looking for a complete set. Give us a call and we will get you a brand new set for a great price.
Swap meets may even seem like a great place to shop for C3 Corvette restoration exterior parts, but you're looking for a needle in a haystack. If you do finally find the correct exterior C3 Corvette vintage exterior parts & accessories you're looking for, you will probably come across a seller who thinks he's sitting on a gold mine. That's why it's always best just to browse our inventory for all your C3 Corvette restoration exterior parts needs. Our prices are always the same, our parts are always brand new and we guarantee you will be satisfied with everything part you receive from us.
For all the hard work that goes into a restoration, especially into a C3 Corvette exterior restoration, it's important to find the right parts and pick the right suppliers. That's what we do here at Southern Car Parts. We make sure we use the best manufacturers in the business, so all you have to worry about is coming to our website and ordering the part you need. We'll do all the hard work of finding your C3 Corvette exterior parts and accessories. Your only job is to focus on making sure your Corvette gets back to looking great.
C3 Corvette Exterior Parts
Minimal Price: $ 0.87 0.87