2016-2018 Camaro Performance Parts
---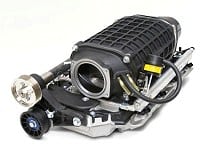 More Power with Our 2016-2018 Camaro Performance Parts
Pushing your driving excitement to the limit is why you buy a brand new Camaro. They're fast, there fun, and cool cars that everyone enjoys whether you get to own one or not. But most car enthusiast that buy a muscle car like a Camaro SS don't buy them just to look at them and drive them, they like to work on them as well. Here at Southern Car Parts.com, we offer you that opportunity to not only work on your car but add some extra horsepower to it with our 2016-2018 Camaro SS performance parts.
Most of our 2016-2018 Chevy Camaro performance parts are bolt-on parts that you can install right in your driveway or garage. Parts like our Camaro SS Airaid Cold Air Inductions are a great place to start. Easy to install and can help the engine's throttle response throughout the RPM range. Also helping out the guys out there who need 2016-2018 Camaro v6 performance parts, we have an Airaid Throttle Body Spacer Kit. An easy install, this will help you gain more response in the 800-3,000 RPM range, a place where you might find your engine's response a little sluggish.
All stick shift owners who enjoy adding a little extra racing excitement by adding on 2016-2018 Camaro performance parts will definitely enjoy the short throw Hurst Billet Plus Classic Ball Shifter. The classic look and feel have been around since adding performance parts to your car has been popular. And if there is some of you who prefer a different classic look but with a more modern touch, the 2016-2018 Camaro SS performance parts Hurst Billet Plus Black Pistol Shifter is a great look and feel for your Camaro. Although this style of shifter didn't hit the market till a little after the ball shifter, they still give you an old school muscle car feel with the same short throw advantage as the Hurst ball shifter.
Gen 6 Camaro Cold Air Intakes and Induction Kits
But no matter how you feel on the road or in the garage, knowing that your vehicle is running great at all times is the best feeling. Many of our 2016-2018 Camaro SS performance parts can add to your go fast abilities while keeping your vehicle in safe hands. Our 2016-2018 Camaro performance parts SS Mishimoto oil cooler allows you to hit the road hard and the track harder while keeping your engine temp right where you feel comfortable with it. And if going fast is something you like to do in your automatic, whether you drive a 2016-2018 Camaro v6 or v8, our performance parts Skip Shift Eliminator offers you a 5 minute install that will eliminate the 1st-4th gear skip that automatic Camaros are designed to do thanks to the CAGS (Computer Aided Gear Selection).
SouthernCarParts.com is dedicated to providing you with the best Camaro upgrades on the market. Whether you are looking for 2016-2018 Camaro performance parts for your Camaro Z28, ZL1, SS, 3.6-liter v6, or your four-cylinder turbocharger, we are the best place to visit on the web.
2016-2018 Camaro Performance Parts
Minimal Price: $ 19.99 19.99