2016-2018 Camaro Exterior Parts
---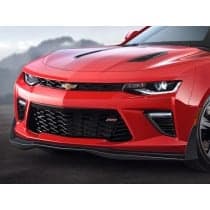 2016-2018 Camaro Exterior Body Parts & Accessories
All car enthusiast love their cars in different ways, some like them the way they were purchased and others like to have the fun of customizing them. Here at Southern Car Parts, we cater to all types of car enthusiast, so we have an inventory full of 2016-2018 Camaro exterior parts and accessories. Whether you just need that replacement part or you're looking to customize your Camaro to the gills, we have the biggest and best exterior 6th Gen Camaro body parts and accessories selection on the web today.
If looking unique is what you're after then our inventory of 2016-2018 Camaro body parts is the place to shop. We can help your Camaro look lower and more aggressive with a set of custom side rockers, front splitters and custom painted upper and lower front grilles. You can also add to the aggressive look of your car with carbon fiber 2016-2018 body parts like our rear spoiler kits, dark/clear tail light covers and our tail light area blackout decals. To match those decals, our blacked out emblems and side markers are a great way to pull a color theme together. Other 2016-2018 Camaro trims we have to help you color coordinate your car are MGP caliper covers, custom fuel doors, windshield arm caps, custom painted hood heat extractors and more.
An Inventory Full of 2016-2018 Camaro Exterior Accessories and Body Parts
Another great way to add some color to your Camaro for uniqueness is with 2016-2018 Camaro exterior accessories like stripes and decals. There are many different 2016-2018 Camaro trim packages that help you offset the color of your Camaro and possibly match your other offset colored accessories. Our Hashmark decals are not only a classic look, but also eye-popping to the onlooker. You can go even more flashy with our Turbo Rally Stripes. Exclusively for the Camaro, these 2016-2018 Camaro exterior mods can make sure you get noticed wherever you go. You will also find that there is a more elegant approach to placing decals on your Camaro. Southern Car Parts has 2016-2018 Camaro accessories and stripes that run down the side of your rocker panels break up the color in subtle way.
If you're looking to replace some 2016-2018 Camaro exterior parts, Southern Car Parts can help. It's not uncommon for someone to crack a 2016-2018 Camaro fiberglass body part. Parking blocks get in the way, steep inclines of parking lot entrances and potholes always seem to be a hazard for a car with 2016-2018 Chevy Camaro trims and ground effects. These things happen and we can help you find the correct 2016-2018 Chevrolet Camaro trims and ground effect pieces that perfectly match the model that you're driving.
Browse our website for the 2016-2018 Camaro exterior parts that your Camaro needs. Whether you're looking for a complete makeover, some small but creative touches for personalization or you just need a replacement part, Southern Car Parts is here to help.
2016-2018 Camaro Exterior Parts
Minimal Price: $ 22.99 22.99