2016-2018 Camaro Car Covers
---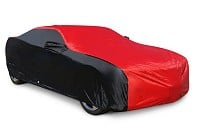 Shop 2016-2018 Chevy Camaro Car Covers
Making a 6th Generation Camaro purchase is a big deal and keeping your 6th Gen Camaro in pristine condition should be just as big of a deal to you. Here at Southern Car Parts, we want to help you keep your Camaro looking good throughout the many years you own it with our selection of top-quality 2017 Camaro car cover products.
We mainly sell car cover products from two different Camaro car cover companies: Coverking and Covercraft. Both of these companies are recognized as industry leaders when it comes to Camaro outdoor car cover protection. Not everyone has the luxury of parking their Camaro in a garage or a storage unit, so parking it outside becomes the only option. Whether it is fall, winter, spring or summer, every season brings its own set of challenges when trying to keep your car safe from Mother Nature. Snow, rain, wind, sun and tree debris can all become your car's worst nightmare. With Coverking and Covercraft's well-manufactured 2016 Camaro car cover products, you'll enjoy the peace of mind you get from knowing you're being protected by the best.
Shop for the Best 2016-2018 Camaro Car Cover
Both Covercraft and Coverking offer a Chevy Camaro car cover that are custom made for your car. There are no universal covers here, these 2016 Camaro car cover products are designed specifically for your car. This makes for an easy install and also an easy and quick way to get them off. Some of our car cover products come with an optional cable and lock kit. This is a great feature to have if you do have to store your car outside. You can be sure that your 2016-2018 Camaro Coverking Silverguard Reflective Car Cover will stay in place even during some of the nastiest high winds winter can bring.
Storing your Camaro inside might leave you to believe there is no need for a Camaro car cover, but that could be a big mistake to think that way. Garages are subject to a lot of traffic, and some of that traffic might not see the importance of being extremely careful around your precious investment. Some of that traffic can include kids, people who don't understand the whole car enthusiast culture and just clumsy people in general. You might even find yourself doing something in the garage and inadvertently end up dropping or spilling something that can be potentially dangerous for your car. With a 2016-2018 Camaro Satin Stretch Car Cover by Coverking, you can save yourself a lot of headaches if you have one installed at all times when you're not using your Camaro.
If you take pride in the way the inside of your garage or man cave looks, then we suggest going with something like a Coverking Satin Stretch Chevy Camaro car cover. A Satin Stretch car cover gives you choices of colors including two-tone options. This is a great way to keep the inside of your garage looking clean and well kept while also keeping your Camaro clean and well kept.
This isn't rocket science, if you want to keep your Camaro looking good for many years to come, then you need to protect it. You need to go with the best Camaro outdoor car cover companies the aftermarket has to offer. Southern Car Parts carries those brands and at great prices too. If you get a universal 2017 Camaro car cover from your local parts store, we guarantee you will not be satisfied. They won't look right, they won't fit right and they won't protect at the optimal level that our Camaro car cover products can. Give us a call today and order your specially made Covercraft or Coverking car cover and start protecting your investment wisely.
2016-2018 Camaro Car Covers
Minimal Price: $ 59.95 59.95