2016-2018 Camaro Exhaust Systems
---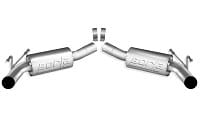 2016-2018 Gen 6 Camaro Aftermarket Exhaust Systems
The new 6th generation Camaros are the most technology driven Camaros Chevrolet has ever built. From the four-cylinder and six-cylinder engine packages to the race-inspired eight-cylinder Camaro package, you won't find a better well-rounded and well-equipped muscle car on this planet.
2016-2018 Camaro Exhaust Selection
Like every car enthusiast will tell you, even when you buy an awesome car like a Camaro, there will always be room for improvement. That's why Southern Car Parts.com offers you plenty of aftermarket upgrades including a large selection of 2016-2018 Camaro exhaust systems. From companies like Flowmaster, Borla, Magnaflow, Corsa, and more, finding the perfect sound for your Camaro with us is the perfect way to shop.
If a 2016-2018 Camaro exhaust is just something you have to have to add a little extra horsepower and a cool sound to your Gen 6, we have news for you, you will also be adding to your mpg performance and longevity of your exhaust. Plus there is always the added perk of catching everyone's ear then eventually their eyes when you're out cruising.
Even if you sprung for a four-cylinder or six-cylinder, we now live in a day-and-age where slapping on a 2016-2018 Camaro V6 exhaust is not something that will earn you a few smirks of resentment from the car community. There is plenty of power that can come out of the smaller powerplants, and that's why we offer such a big selection for all three of the Camaro engine packages. Options like a Borla 3" downpipe for your turbo four-cylinder engine, or six and eight-cylinder axle-back kits, cat back kits, SLP Loudmouth exhaust, Flowmaster X-pipe setups, header adapters are all just a few things we offer on our website.
2016-2018 Camaro SS, ZL1 Exhaust & Camaro Z28 Exhaust Upgrades
The Camaro ZL1 is the Godfather of Chevrolet Camaros. This particular beast already comes pretty much ready to hit the track, but like mentioned above, you may want to improve on its performance. Even the 2016-2018 Camaro SS comes well-endowed with track performance power, but adding a set of American Racing long tube headers that lead into a bigger 3-inch aFe Power Mach Force-Xp full exhaust can add up to 25 percent more horsepower over stock.
Although a lot of people still think that running no exhaust after your headers will create more power, Borla exhaust engineers say that all newer powerplants actually need a full exhaust system to gain optimal engine performance. A 2016-2018 Camaro ZL1 exhaust will help you gain the correct backpressure and flow that the Camaro's computer was originally tuned for by Chevrolet's engineering team. Not running an exhaust could confuse the computer causing you to lose power rather than gain it. This is true for all other newer generation vehicles as well. We offer Camaro Z28 exhaust upgrades too for those who own the Z28 race package.
Whether it's your four-cylinder, six-cylinder, or eight-cylinder Camaro that you are looking to put upgrades on, an aftermarket 2016-2018 Camaro exhaust or dual mode exhaust is the perfect place to start. Adding horsepower, getting better gas mileage, and sounding great while you do it is something every car enthusiast can get down with.
2016-2018 Camaro Exhaust Systems
Minimal Price: $ 199.99 199.99