2016-2018 Camaro Exhaust Systems
---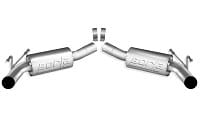 2016 - 2018 6th Generation Camaro Exhaust Systems
Camaros are supposed to sound like true American muscle, and although your 6th Gen Camaro may sound good with a stock exhaust, you might want a little bit more. Here at Southern Car Parts, we are a leader in Camaro exhaust system options for your 2016-2018 6th Gen muscle car.
Take some time to check out some of the brands we offer. We only deal with the best manufacturers in the in the business like Borla, Magnaflow, Corsa, Flowmaster and more. From headers, cats, X-Pipes, resonators all the back to a Camaro NPP exhaust system, we have everything you need to complete your exhaust projects. And although we offer plenty of 2016 Camaro SS exhaust systems, we also have plenty of options for drivers of the six-cylinder and four-cylinder 6th Gen Camaro.
Go Loud and Proud with 2016-2018 Camaro Exhaust Systems
How bold and loud you want to go when you do a Camaro exhaust system upgrade is up to you. But if you're looking to create more power and better fuel economy the bigger you go the more performance you will gain. We have plenty of options for going big. One of our headers back full exhaust systems from American Racing Headers would definitely take your Camaro to the next level. If you're not looking to go that big, but you're still looking for an ultimate sound change, then an SLP Loudmouth exhaust is a great system to go with. Coming in at under $400, you won't be breaking the bank, and you will still be making a nice reduction in weight and back pressure.
Once you've got your Camaro exhaust system in place, you can personalize it with 2016-2018 Camaro SS Stainless Works Axle-Back Exhaust System Dual Tips and 2016-2018 Camaro 2.0L Turbo Borla 3" Turbo Down Pipe.
You won't find a better selection than here with us. Some of our low drone Camaro exhaust system options are top sellers. It's nice to know that you can travel at a cruising speed making a good exhaust sound on the outside, but on the inside, you can hear your radio or hear someone talk to you easily. Magnaflow and Corsa are well-known for creating Camaro exhaust systems with this feature. Too often, car enthusiasts go too big and crazy with their exhaust purchase and end up regretting their choice because they can't enjoy their car in everyday driving situations.
If you're not sure what exhaust would best fit your situation, our experts here at Southern Car
Parts have more than 50 years of experience to help you pick the correct 2016 Camaro SS exhaust. We encourage you to call us anytime you have any questions about anyone of our products, we're here to help.
2016-2018 Camaro Exhaust Systems
Minimal Price: $ 29.95 29.95