2016-2018 Camaro Exhaust Systems
---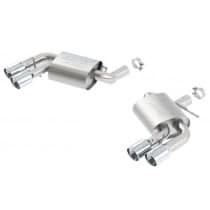 2016-2018 6th Generation Camaro Exhaust Systems
We are your leader in all aftermarket exhaust systems for the 6th Generation Camaro. Our selection of exhaust systems includes; Borla, Kooks, Magnaflow, Corsa, American Racing Headers and more. We have over 40 years combined experience to help you decide which system is right for your goals.
Some of our more popular 2016-2018 Camaro exhaust systems are from Borla. Borla Exhaust has created a great following of all American made systems that come with a lifetime warranty. Many of our past customers really enjoy the diverse selection of systems offered by Borla, including the ATAK and S-Type. The Camaro ATAK exhaust is one that is for the loud and proud 6th Gen Camaro owner. If you like to be heard and love the sound of an American V8, then this is what you want. If you want something a little less aggressive but still better than your stock system, we'll suggest an S-Type from Borla.
Corsa Exhaust is also a great manufacturer with great quality Camaro exhaust systems. Corsa Xtreme for the 6th Generation Camaro. The Xtreme is a very aggressive system that will be heard, no matter where you go. If you like a throaty V8, then the Xtreme system from Corsa is a good choice.
2016-2018 Camaro Exhaust Systems
Minimal Price: $ 29.95 29.95