2016-2018 Camaro Headers
---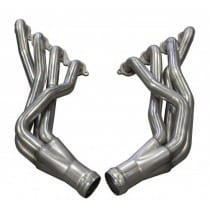 2016-2018 Camaro Headers, SS, V6, Shorty and Long-Tube Headers
Everyone wants to make more power, but after doing so many upgrades sometimes you run out of ways to do it. Southern Car Parts has a suggestion for you, a set of 2016-2018 Camaro long tube headers. You can find a set on our website that can help you reach your horsepower goals. Whether you are just trying to get a little extra power and torque or you're getting ready to set your Camaro up for some big-time racing, we have a set of 2016-2018 Camaro SS headers that will be perfect for your setup.
Our 6th Gen Camaro long tube headers are great for anyone who is already using an aftermarket cat-back exhaust. Most of our American racing headers for your 2016-2018 Camaro will hook right up to your stock exhaust, but that is not recommended. The idea of installing 2016-2018 Camaro headers on your car is to free up more exhaust flow to create better horsepower and torque across the RPM range. Hooking up a set of headers to a stock exhaust kill the extra flow that the headers are designed to create.
Boost Your Power with Our 2016-2018 Camaro Headers
The best way to go about buying a set of Kooks headers for your 2016-2018 Camaro is by either already having an aftermarket exhaust system installed or purchasing a full Borla exhaust while you're purchasing your 2016-2018 Camaro Borla headers. This is the only way you can really achieve optimal power and sound from your purchase. And although we do have the best prices on the web, headers can be a pretty big purchase not to mention an installation. We wouldn't want you to put that much time and effort into something that you won't see positive results out of. We understand that these are just one part of the engine's performance, but if done correctly you can see serious power increases out of your 2016-2018 Camaro SS headers.
If you happen to drive a small engine Camaro, we also carry 2016-2018 Camaro V6 headers and exhaust systems. A full header back exhaust system can really help your six-cylinder Camaro come alive. There is nothing like showing up someone in a V8 on the racetrack with a V6 that is making great power thanks to the great level-headed purchases you made. We even have 2016-2018 Camaro headers and options for the 2.0L Camaro like our Borla 3" down pipe to let your turbo really breathe. You don't always have to have a V8 to have fun in a sports car.
We do offer a set of 2016-2018 Camaro shorty headers, but this is a purchase you should be careful about. Most short tube headers are designed for race only and probably won't hook up to your conventional exhaust. These 2016-2018 Camaro LT1 headers would probably have to have a custom exhaust system made so they can fit properly, or you should just run them without an exhaust.
Headers and exhaust systems can be a tricky and confusing purchase for anyone. So if you're having any problems deciding what 2016-2018 Camaro SS headers or exhaust to go with, please don't hesitate to give us a call here at Southern Car Parts, our experts love to help.
Minimal Price: $ 199.99 199.99