2016-2018 Camaro Floor Mats
---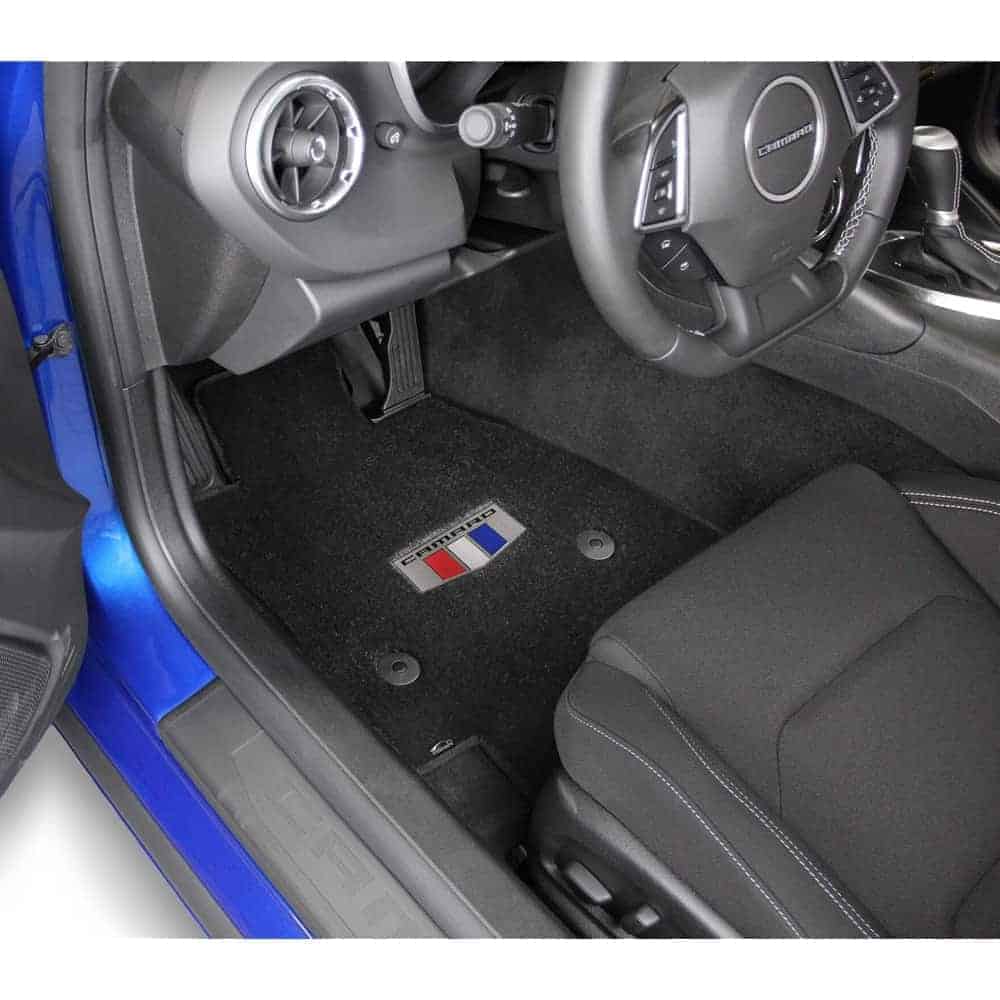 2016-2018 Camaro Floor Mats for Camaro SS & RS
Style and Protect with 2016-2018 Camaro Floor Mats
Stock floor mats are okay, but why not add a little extra style to your Camaro with a set of aftermarket 2016-2018 Chevy Camaro floor mats. Here at Southern Car Parts, we have a whole line of floor mats in our inventory that can help you protect your Camaro's carpet from many years of foot traffic. Whether you are trying to preserve the original floor mats or you have already worn them out, our 2016-2018 Camaro SS floor mats will give your Camaro's interior the perfect look.
Our most popular brand of floor mats is our Lloyd 2016-2018 Camaro floor mats. The Lloyd brand is probably the most trusted brand by Corvette and Camaro owners. All of their mats are manufactured with premium nylon yarn that is virtually stain resistant and offers plenty of protection against moisture. The rubber backside of the mat offers you a floor mat that won't slide or bunch up on you when you're driving or getting in and out of the car. Lloyd is also licensed by General Motors and offers you your choice of embroidered badges. If you're in need of 2016-2018 Camaro SS floor mats or 2016-2018 Camaro RS floor mats, Lloyd can create you a floor mat with the exact logo to go with the correct car.
But technically, you don't have to go with any logo that is correct to the Camaro you drive just like you don't have to purchase the floor mat that matches the color carpet of your Camaro. If you want a two-tone look in your Camaro, then you can go with a light gray set of 2016-2018 Chevrolet Camaro floor mats to go over your Charcoal Grey colored carpet. You also have the choice of what you would like embroidered on your Lloyd floor mats. The possibilities are endless. You can get 2016-2018 Camaro SS floor mats for your SS, or you can go with Chevy floor mats, ILE floor mats, classic Camaro emblems and more. And don't forget the trunk, the same material and options are available for your trunk mats as well. Your trunk can see just as much cargo traffic as your interior sees foot traffic.
For our all weather options, our WeatherTech 2016-2018 Camaro rubber floor mats offer great protection for someone who just can't put their Camaro up for those months that are less than disable to drive in. It doesn't matter if you can't or don't want to put your Camaro away, these floor mats offer the ultimate protection to foot traffic, moisture, salt, liquid spills and more. The WeatherTech 2016-2018 Camaro all weather floor mats utilizes channels to trap fluids and debris into reservoirs that can easily be emptied over the door seal of the car when you are done driving.
All of our Southern Cars Parts 2016-2018 Camaro floor mats use the stock Camaro fasteners and are digitally cut to fit into your Camaro perfectly.
2016-2018 Camaro Floor Mats