Dodge Challenger Floor Mats
---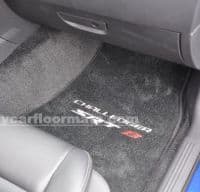 2009-2017 Dodge Challenger Floor Mats, Rubber & All-Weather
Protection of your pride and joy may be one of the most important things a car enthusiast has to worry about. Unless you have a car that sits in the garage all year round, your car will take a serious beaten no matter how careful you are. Keeping your carpets safe from years of torture starts with a set of 2016-2017 Challenger Lloyd floor mats. This is one of the most inexpensive interior investments a car enthusiast can make.
Here at Southern Car Parts, we have a wide range of 2009-2017 Challenger RT floor mats to choose from. Although this may sound like a boring car accessory to purchase - more like a chore than anything else - they can add a lot of character to your interiors. First, you can shop for what color 2096-2017 Challenger floor mats you want. You can go with the original factory color, or a few shades lighter or darker to offset the carpet. Or you could add polish or pizazz with a with a completely different color. If you have a two-tone interior that promotes two very different colors, you might want to use your floor mats to enhance the accent color. You can also choose emblems and the trim colors to help match up with your interior.
Start Protecting with 2009-2017 Dodge Challenger Floor Mats
Another great way to customize your 2009-2017 Dodge Challenger floor mats is with your choice of emblems. You can always have the badge of your car embroidered in, as well as the size of the engine of which your car uses, the simple Dodge emblem, or even the HEMI emblem.You can oftentimes even choose the color of the emblem you want for your 2009-2017 Challenger floor mats. It's these customization options that can really make what seems like a boring purchase fun.
There is a second option other than carpeted floor mats. If you're really worried about keeping your carpets in perfect condition, 2009-2017 Dodge Challenger rubber floor mats are a viable options. These 2009-2017 Dodge Challenger all-weather floor mats are great for the person who drives their car a lot. If you drive your Challenger to work every day and find yourself with kids in your car a lot, this might be a great option. 2009-2017 Challenger rubber floor mats are practically indestructible, extremely easy to clean and will probably outlast the life of your car.
If you own a Challenger that you want to last for years to come, the protection of your carpets with 2009-2017 Challenger floor mats is vital to your goal. Foot traffic, weather and many other elements take a toll on our vehicle's carpets every year. Take some time and give us a call here at Southern Car Parts, we will find you the perfect set of 2009-2017 Dodge Challenger floor mats.
Dodge Challenger Floor Mats
Minimal Price: $ 44.90 44.9