Seibon Challenger Carbon Fiber
---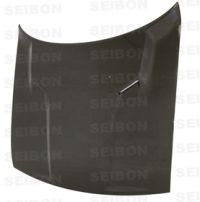 Buy Dodge Carbon Fiber Hood by Seibon Carbon Fiber
It's possible that you may have run into two custom upgrading problems on your Dodge Challenger. You may have added plenty of aftermarket exterior parts, but you still kind of blend in, and you have added all of the bolt-on performance parts you can get your hands on and yet you don't see the times you were hoping for at the drag strip.
Here at Southern Car Parts, we have a solution for you that can kill two birds with one stone. A Dodge Challenger carbon fiber hood by Seibon can lighten up your front end helping you achieve quicker times at the track while at the same time giving you a unique look that other Challenger drivers probably won't have.
Get Noticed with a Dodge Challenger Carbon Fiber Hood
A 2008-2014 Dodge Challenger Carbon Fiber Hood is about 30-60% lighter than the stock hood the Challenger comes with. All Seibon carbon fiber parts are fully functional and use factory mount points and hardware. This makes for a guaranteed accurate fit and an easy install. Seibon will paint your Dodge Challenger carbon fiber hood to a color of your choice or you can just order one with that raw carbon fiber look and install it that way. Both options make for a very bold statement, and with Seibon's high-quality beautiful carbon fiber finishes, your car will look car show ready and race ready at all times.
Founded in 2003, Seibon started making carbon fiber parts for the aftermarket import industry. Since then they have become a very well-respected and trusted brand to turn to for Dodge Challenger carbon fiber front lips, bumper canards, deck lids, hoods and more. All of Dodge Challenger carbon fiber parts are made in the US and go through multi-step inspections throughout the production process. You won't find a better-looking Challenger carbon fiber hood that functions properly anywhere else then with the Seibon Carbon company. In the past decade in a half, Seibon carbon fiber parts have been featured in television shows, movies, on magazine covers, all over the US and the world at car shows and race events, and Seibon Carbon always make an appearance at the very important SEMA auto show.
Every car needs its own unique look, and a Dodge Challenger carbon fiber hood or deck lid or other Seibon carbon fiber parts can help you give your Dodge Challenger just that. Give Southern Car Parts a call and let us hook you up with the best carbon fiber parts the aftermarket has to offer.
Try to solve the new Formula Cube! It works exactly like a Rubik's Cube but it is only $2, from China. Learn to solve it with the tutorial on rubiksplace.com or use the solver to calculate the solution in a few steps.
Seibon Challenger Carbon Fiber
Minimal Price: $ 170.10 170.1