Dodge Challenger Headers
---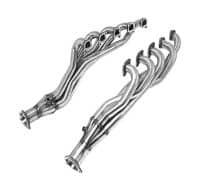 2009-2017 Dodge Challenger Headers
Complete Header Packages for the Dodge Challenger
We, at Southern Car Parts, are dedicated to provide our clients with high quality aftermarket goods at low prices. No matter what the price, you can be sure of the quality. We carry only original products from trusted manufacturers to ensure that only good quality products reach our customers. We have a large variety of aftermarket products like modifiers, accessories and replacement parts for Challenger and other cars like Mustangs, Camaros, and Raptors etc.
We have an online store that caters to all the needs of aftermarket goods. We also keep updating our inventory on a weekly basis. We include parts with latest technology and restock sold out ones to different categories every week. So make it a habit to check back often to look out for sold out goods and keep in touch with our latest products. Each product has been priced at its lowest after keeping all the budget standards in mind.
You are always welcome at SCP as we are here to fulfill all your needs related to aftermarket products. We have a stockpile of both interior and exterior parts for your Challenger. We probably have everything to add stars to the beauty, power and performance of a Challenger. This wonderful car has never failed on our performance tests. It is the best in terms of durability and performance, reason why it's one of our favorites.
This also moved us to build something good enough to boost the airflow in the engine of this classic muscle car. Our full collection of aftermarket products is made to stand well up to the high demands of a Challenger owner. Our powerful range of headers and other accessories not just adds to the power of this muscle beast but also keeps the engine performing well for a longer time.
We are here to help you if you have a question to ask or just as many as you want. Consider an American racing headers for your R/T Challenger or Borla headers, or a set of Kooks Headers for your SRT8. Or if you're looking for a complete kit of headers, you can pick up a Kooks header system to keep the engine of your Dodge Challenger high on performance. Now you can keep the engine of your Challenger performing well for a long time by the installation of headers with a proper tune. This can give as much as 35-50 extra rwhp for your Challenger. We offer free shipping on most of our products and have many other offers running on our website to keep the cost of improving the engine's air flow, light on your pocket. With this huge collection of products to choose from, shopping can become really convenient. So shop for your Challenger needs without hesitation and get a header for it today. In case you have any questions, please feel free to get in touch with the friendly sales staff at SCP! Browse through our category of headers for Dodge Challenger here.
Minimal Price: $ 1,198.88 1198.88