Challenger Car Covers
---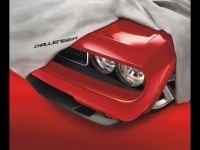 Shop 2012 & 2015 Dodge Challenger Car Covers
If you have a Dodge Challenger and it's your pride and joy, you probably want to keep it protected at all costs. Here at Southern Car Parts, we offer a whole line of great Dodge Challenger car cover products to make sure that wherever you park your car, you can make sure it stays safe from the many hazards that can scratch, dent or damage your beautiful exterior paint job.
Whether you have to park your Challenger outside or you have the luxury of parking it indoors, you will find that you can't get away from the fact that if you're not driving your Challenger it can be a sitting duck for accidents. Our indoor/outdoor car covers from Coverkind and Covercraft are great choices when it comes to selecting a proven Dodge Challenger cover for protection. This isn't like heading out to your local auto parts store and purchasing a generic Dodge Challenger car cover off the self. These industry standard car cover brands are the best the aftermarket has to offer. They fit your Challenger correctly and offer you fabrics that protect from the top layer to the bottom.
Protect Your Investment with a Dodge Challenger Car Cover
Our Covercraft car covers are great for indoor and outdoor use. They come with a 4-year warranty and are 100% USA made. Using Kimberly Clark fabric, you'll enjoy how the
2009-2017 Challenger Reflectect Outdoor Covercraft Car Cover
protects your car from UV rays, moisture, bird droppings, debris and other unforeseen issues that can leave you with undesirable marks on your Challenger's exterior.
Our 2009-2018 Challenger Coverking Stormproof Car Cover and related products for other model years are another great way to go if you're stuck keeping your vehicle outside. These stormproof covers are lightweight and durable making them easy to put on and off all while offering max protection against extreme weather. This is another Dodge Challenger car cover that is designed specifically for your car, so you won't experience any sloppiness or awkwardness in the fit of a Coverking car cover.
You may also fall in love with our two-tone Satin Stretch indoor Dodge Challenger cover products, including the 2008-2018 Dodge Challenger Satin Stretch Car Cover in Tan. Made of synthetic elastic fabric, these Coverking car covers are great for your garage. They can protect
your Challenger from people or kids working or playing around your car, yet they look amazing and sleek so it doesn't look like you just have a big blob of something covered up sitting in the middle of your garage. They are also great for car shows. If your car is in a show but the show hasn't started yet, keeping dust and debris off of your car to keep that shine alive with a Coverking two-tone Satin Stretch Dodge Challenger car cover is a great way to go. Good-looking and classy, you can protect, and do it in style wherever your car has to be parked.
For a whole list of our Noah Block-It Covercraft car covers and other Dodge Challenger car cover products, give us a call here at Southern Car Parts today! Don't be fooled by generic car covers that claim to offer the max protection, shop with us for the best and most well-respected car cover manufacturers the aftermarket has to offer.
Minimal Price: $ 59.95 59.95