Challenger Car Covers
---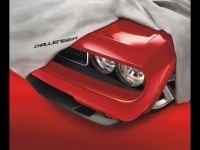 2009-2017 Dodge Challenger Car Covers
If you are like most folks, your Dodge Challenger is driven primarily for fun. When you are not driving it, you want it protected. A Challenger Car Cover from Covercraft or Coverking is you best choice when it comes to protecting your Dodge Challenger.
At Southern Car Parts are focus is to carry only the best of breed products and Covercraft is our primary car cover manufacturer. Covercraft car covers are 100% made in the USA and the fabric is direct from Kimberly Clark (also USA based).
Covercraft car covers have a 4 year warranty and are considered to be the best car covers on the market. Do not take chances with your Challenger, if it is sitting outdoors, get the very best car cover you possibly can, something like the famous and time tested Covercraft NOAH Car Cover. If indoors, the Form Fit Challenger Car cover is sexy on your Challenger and protects it from the hazards in a garage. The underside of the Form Fit Challenger Car cover babies your Challenger's paint. Do not skimp on your car cover choice, get the best, get a Covercraft Car Cover
At Southern Car parts, we have a huge stockpile of aftermarket parts like modifiers, replacements and add-on accessories for Challenger and other cars like Mustangs, Camaros, and Raptors etc. We are a budding online store and we keep upgrading our products on a weekly basis. We add parts with latest technology and restock updated options to the categories every week, so be sure that you check back often to keep in touch with our latest products. Apart from that, we carry 100% genuine products, only from top-rated manufacturers to make sure that only finest quality products reach our customers. All these products are priced at reasonable prices after keeping all the budget sizes in mind.
We are always ready to satisfy all your requirements related to aftermarket products. We have a collection of both interior and exterior parts for your dear Challenger. We have almost everything to add to the beauty, power and performance of a Challenger. This stylish yet powerful car has never failed on our performance tests. It is No.1 in terms of durability and performance, reason why it's one of our favorites. This also moved us to build something good enough for the protection of this modern yet classic muscle car. Our entire range of aftermarket products is built to sustain the increased demands of a Challenger owner. Our exquisite range of car covers and other add-on accessories not just adds to the beauty of this muscle beast but also keeps it protected against rubble and other hazards.
We are here to assist you even if you have just one question to ask or as many as you want. Consider a satin cover or a stretchable one that fits the car perfectly. Or if you're looking for a complete protection kit, you can pick up a custom cover to keep your Dodge Challenger fully covered. Check out our colorful covers, in hues of white, yellow, dark blue, red and many other to keep your Challenger fully protected against hazards but in style. We offer free shipping on most of our products and many other offers to keep protection of your car light on your pocket. With all these choices to select from, shopping can become really hassle-free. So don't think twice and shop for your Challenger needs and get a classic cover for it today. In case you have any questions, please don't hesitate to contact the friendly and cooperative sales staff at SCP! Browse through our category of car covers here
Minimal Price: $ 59.95 59.95