C7 Corvette Indoor/Outdoor Car Covers
---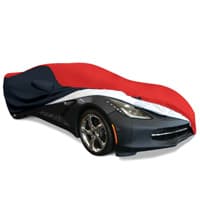 2014-2018 C7 Corvette Outdoor Car Covers
We at Southern Car Parts, are dedicated to getting your hands on the best and latest C7 Corvette parts and accessories. We strive hard in order to find the best in the market and get it delivered to your doorstep. We only buy from top manufacturers and maintain high levels of quality and service.
All our Corvette products are reasonably priced and quality is best in class too. We believe in 100% customer satisfaction and have a team of supportive staff to help you with any queries. They'll be glad to help you. When your buy from Southern Car Parts, just remember that your money is secure till the product is delivered to your doorstep. The products and services are unbeatable in terms of quality and pricing. One thing that we can assure is that you'll be happy and satisfied with your purchase.
We have an extensive range of car covers for various cars including Corvettes C7, Z06 Corvette and Grand Sport Corvette. These car covers are meant to protect your car from harmful materials like debris, and will also protect its shine from bird-droppings and other pollutants. A car cover is the best way to protect your car even when it's unattended and away from sight. We know your Corvette is super expensive and you'd not want it to get dirty in the parking area, better get an outdoor car cover now. You can look at all the options mentioned below in this category.
Here, you'll find Coverking custom car covers, Car cover econotech line with cable and lock, Autobody Armor all-weather car covers, Silvertech outdoor car covers, Covers with Z06 logo, block-it evolution Covercraft and many other covers to choose from for your super stylish Corvette. A cover will help in keeping it stylish for longer. So you better invest in a nice car cover now.
C7 Corvette Indoor/Outdoor Car Covers
Minimal Price: $ 49.99 49.99