Corvette C7 Lloyd Floor Mats
---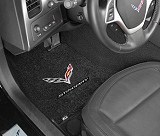 2014-2018 C7 Corvette Lloyd Floor Mats
Many Corvette owners may only drive their beloved sports cars on the weekends or only when the weather is nice, but many other owners drive their beloved Corvettes all the time because they just love to drive them. Either way you go, you have an investment to protect. For those of you who drive your Corvette a lot, aftermarket C7 Corvette floor mats might be a great protection investment, and for those who don't, a set of aftermarket C7 Corvette Lloyd floor mats can be just a great way to spruce up the interior of your car.
C7 Corvette Lloyd Floor Mats Sprucing Up Car's Interior
C7 Corvette Lloyd floor mats are made to be compatible, so they're the perfect fit for your Corvette, and they even use the factory fasteners. With a five-year manufacturing warranty, lifetime warranty on some, once you buy a set of these floor mats you will never want to buy another brand. When purchasing a set of Lloyd floor mats from Southern Car Parts.com, you will receive the best-constructed floor mats on the planet. On the back side of a set of C7 Corvette Lloyd floor mats, you will find a patented waterproofing backing. This layer not only adds to the heavy duty quality that we guarantee, but it also makes sure that the floor mats stay where you place them - no sliding, slipping or crunching up of any kind.
You will also find our Lloyd C7 Corvette floor mats come made with premium nylon yarn and our Ultimats come with 2 ply premium nylon continuous filament yarn that makes up 32oz. per yard of construction. These materials give you the most wear and tear resistance than any other floor mat on the market. Of course, there is another way to go. For the all season driver, C7 Corvette Lloyd Rubbertite rubber floor mats are great for taking on water, mud, snow, and salt. Not too many people venture out in their Corvette in that kind of weather, but no one said you couldn't. With many different color options to match your existing interior colors, these C7 Corvette floor mats fit so good, they'll look like they were factory installed.
Lloyd designs offer you model specific emblems for your floor mats like Corvette ZO6 emblems embroidered in for your C7 interior. This is a great touch for someone who is thinking about doing a little customizing and protecting at the same time. You will also find you can purchase floor mats with Corvette racing logos, Grand Sport logos, Stingray logos and more to match your model Corvette and your taste. On our site, you will even find model specific C7 Corvette cargo mats made out of all the same great materials as we use to construct our Ultimats floor mats with.
For all your floor mat needs and your interior design desires, SouthernCarParts.com has the best Corvette C7 floor mats on the market. Lloyd Floor Mats have been in the aftermarket floor mat business since the 1970s, making them one of the most trusted and well-respected brands in the floor mat business.
Corvette C7 Lloyd Floor Mats
Minimal Price: $ 39.90 39.9